Harnessing the power of Solar Energy has gone to the next level.
CSIR's – Central Mechanical Engineering Research Institute (CMRI) has developed the world's largest Solar Tree in India. The tree is installed at the CMRI residential complex in Durgapur in India's eastern state of West Bengal.
The tree is likely to be the largest of its kind in the world producing up to 11,500 watts (11.5kw). The second-largest tree has been set up in London and produces around 8.6 kW.
What is a Solar Tree?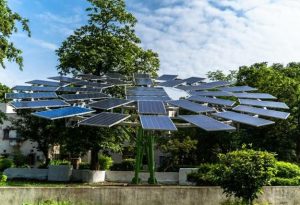 A solar tree is a metal structure resembling a tree that has solar panels fitted on the branches – compared with any other solar installations which are mostly horizontal and flat on the ground.
The CMERI Solar tree has been designed in a manner to ensure maximum exposure of sunlight through the Photovoltaic (PV) panel and also create the least amount of shadow area beneath.
It has an annual capacity to generate 120000-14000 units of renewable energy. There are a total of 35 Solar PV panels in each tree, each having a capacity of 330 watts peak.
The cost of developing this Solar Tree is about Rs 7.5 lakhs (USD 10,000).
What are CSIR and CMERI
Established in Sep 1942, the Council of Scientific and Industrial Research (CSIR) is India's largest institution focussing on research and development. They have made some significant contributions to the country's progress, in various sectors – Agriculture, aerospace engineering, Waste Management, Water Management, Ocean sciences, Chemical, environmental science, and of course, Solar Energy.
CSIR laboratories are spread across the country, as of September 2020, they have 38 national laboratories. Funded by the Ministry of Science and Technology, this autonomous body is credited with many great developments. Some of which include –
Developed India's first synthetic drug, methaqualone in 1950.
Indigenously developed the first Indian tractor Swaraj in 1967.
Successfully tested India's 1st indigenous civilian aircraft, NAL NM5 in 2011
The Central Mechanical Engineering Research Institute (CMERI), founded in 1958, is a dedicated body for mechanical engineering under the aegis of the Council of Scientific and Industrial Research (CSIR).
Benefits of Solar Tree
Need far less Space: The vertical structure ensures that far less pace is required for the same number of photovoltaic panels, compared to the large-scale horizontal Solar parks which need acres of land.
Flexibility: The inclination of the arms holding the solar panels can be adjusted as per requirement. This flexibility is not available in roof-mounted solar facilities.
Reduce Carbon footprint: Each similar Solar Tree has the potential to save 10-12 tons of carbon emissions being released into the atmosphere, compared to power generated through fossil fuel.
Rural Electrification: It has great potential to be established in rural areas and villages. This will not help in providing electricity to local communities but will also support agricultural activities.
Additional Features: The structure of the solar tree can be used to install CCTV cameras for surveillance, calculate wind speed, and record real-time humidity levels for localized weather predictions.
No Obstacles and hindrances: The vertical structure ensures minimal hindrances on the activities on the ground. They can even provide shade from the heat of the sun.
In conclusion, solar trees can offer great advantages in a variety of places – villages, educational institutions, hospitals, airports, residential areas, government buildings, etc.
Imagine, sipping a drink 🍹in a swimming pool that has Solar Tree as a canopy. Great for your skin protection and awesome for environmental protection.