It is a fact that the world over electric cars is gradually getting a lot of popularity these days. Cars not only look stylish but more importantly, with no tailpipe emissions these cars are much more environmentally friendly.
If you think you won't enjoy a great speed with an electric vehicle, you're mistaken. A few electric cars can even perform better than cars running on diesel or petrol. Many countries are now giving increasing attention to introducing Electric Vehicles (EV) and allowing companies to launch their electric cars.
But what about India? Are the citizens of India ready for it? What is the current situation of the country when it comes to adapting EVs?
The Necessity for EVs in India
Controlling the rising pollution level
As per a report of the ICCT- International Council for Clean Transportation, in the year 2015, air pollution caused around 74,000 premature death. Besides, most of the world's top polluted cities are located in India. Electric vehicles could help address this issue and lower the pollution level.
Dealing with climate change
Germanwatch, in December 2019, released the Climate Risk Index 2020 that informed that India's rank went down to 5th place in 2018 from 2017′ 14th spot in the vulnerability ladder. This suggests that India should think about EVs quite seriously.
Promoting sustainable energy
By choosing EVs, India can lower its oil dependency. It will also help the country solve energy scarcity issues and move towards clean and renewable energy sources.
Initiatives Undertaken By The Government
It is not like the Indian government is not taking any steps for the launch of electric vehicles. The government has taken many crucial measures like the FAME India Scheme. Launched in 2015, the Faster Adoption and Manufacturing of Hybrid and Electric Vehicle India scheme is now in its third stage.
Another notable initiative is the National Electric Mobility Mission Plan 2020 that promotes domestic production of electric vehicles. Then last year (Aug 2020), the government of India has allowed the registration of Electric vehicles without batteries, which makes buying the vehicle much cheaper initially.
All this has created a conducive environment for Electric vehicle companies. We had earlier written an article about the new crop of players that have entered the Indian EV market.
Many Indian automobile companies have joined the electric vehicles bandwagon. With the likes of Ola, Tata, Mahindra on the 4 wheeler side and Hero & Ather on the 2 wheeler side making decent sales traction in the sector.
What's more? The government is also offering incentives to customers to use electric scooters and cars. For instance, in Delhi, the government is providing Rs. 1.5 lakh ($2000) subsidy on electric car purchase and Rs. 30,000 ($400) subsidies on electric two-wheelers.
Tesla's Entry into India
Recently, the Founder of SpaceX and CEO of Tesla, Elon Musk, informed that his company would start its operations in India in 2021. Nitin Gadkari, Road Transport Minister of India, confirmed the news of Tesla's entry into India and that company would begin selling its electric cars from early 2021.
Shortly after the announcement in early January 2021, Tesla registered its first R&D office in India's software hub Bengaluru, which is also home to new electric vehicle startups Ola Electric & Ather Electric.
The Model 3 sedan could be Tesla's first electric car to be offered in India and would be imported as Completely Built Units (CBUs). It seems that the leading electric car maker is on its way to change things in India, and after a few months, people may see a super stylish Tesla running on the roads of India.
Can Tesla's entry change EV industry dynamics?
The country is moving through a green growth stage. According to a McKinsey & Company's report, EVs' adoption rate is just 1 percent in India. However, the government is planning to make it 30 percent by the end of 2030. This can only be achieved by electrifying a four-wheeler, two-wheeler, commercial vehicle, and three-wheeler and Tesla's entry into India can be a game-changer.
Tesla's entry into India can usher in a new viewpoint for Indian consumers. A few reports suggest that the Indian model of Tesla Model 3 will be priced around Rs 50 lakh ($70,000) ~ thanks to the import duty. The high cost of the Tesla car could make ownership a status symbol for the Indian elite class, triggering interest in the urban middle class. In addition, Tesla's brand value and Elon Musk's maverick personality are sure to create curiosity among people & change the attitude of the people.
Tesla brings years of EV experience, the company has made serious inroads in the electric vehicle (EV) market since its first EV was launched. In 2008, it became the first company to launch a completely electric car, named "Roadster" on roads. In 2012, the company launched its flagship vehicle Model S. Over the years, Tesla has been at the forefront of developing innovative electric vehicles, bringing cutting edge technology to manufacturing.
Setting up a research and development center in India indicates that Tesla is serious about bringing innovation to the Indian market. Possibly setting up a manufacturing facility in a few year's time is a distinct possibility which the company could also use for other south Asian markets.
Tesla cars are a dynamite of features. With a push of a button, the car's air suspension can be increased to easily maneuver over potholes & speed breakers. The special HEPA filtration system purifies the inside air of the car in no time, an extremely important feature for polluted Indian cities. Inbuilt games, a community portal, customer friendly services make Tesla cars extremely efficient & convenient for Indian roads.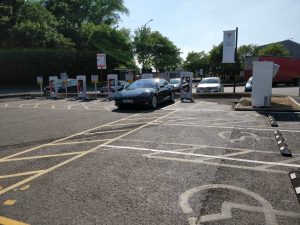 In many countries, Tesla has its own charging station networks providing free recharging opportunities for its electric vehicle owners. It could plan the same in India as well.
Something which Tesla needs to watch out for
The high-cost factor? the cost of the Tesla Model 3 is expected to be upwards of Rs. 50 lakhs (approx $70,000). On the other hand, the price of Nexon EV by Tata is Rs. 16.25 lakh ($22000).
In the 2021 union budget, the Government of India increased custom duty on imports of battery-powered vehicles between 5% and 15%. Additionally, the customs duty on completely built units (CBU) of electric commercial vehicles has been increased from 25% to 40%. The motive behind this is to incentivize local manufacturing of Electric Vehicles, but this will have further implications on players like Tesla, Hyundai, MG Motor, etc. who import their vehicles as completely-built units.
Tesla's entry into India will be through the CBU route, and since there are hefty duties on CBUs in the country, the cost of each vehicle would drastically increase.
On the other hand, the lack of battery production capability and a smaller number of charging stations can be another issue. As per a few reports, there are 250 charging stations operating in the country at present.
Lastly, the clean-energy and electric vehicle company will have to establish service centers for its car in India's major regions before it can be viable for plying in the country.
The future of Electric Vehicles in India is exciting
"The Indian electric vehicles (EV) industry has registered a 20% surge with sales of 1.56 Lakh units in the financial year 2019-2020, compared to 1.3 Lakh in the previous year." – inc42
As such, one can say that the country is slowly inclining towards EVs. However, the cost could be a constraint factor, and only a few people will be able to afford an EV at present. Given these challenges, can Tesla's entry into India improve the country's electric vehicle industry?
Well, there are multiple factors that one needs to consider before getting all thrilled at the thought of driving the Tesla Model 3 sedan on the Indian roads, though. Having said that Tesla's entry into India has surely made the future of EV very exciting.