Pre-COVID, urban transport was a fast-evolving beast, it changed from people owning vehicles to using commute share.
Whether it was due to economics, technology startups, traffic congestions, convenience, affordability, a shift in mindset, or any other factor, plummeting sales in automobiles from the last few years is evidently suggesting the trend. People in urban cities are reluctant to buy cars and bikes and prefer to use likes of Ola, Uber, Bounce, Zoom car etc.
India's auto sales across categories declined by 13.77 percent in January- December 2019.
The US domestic light-duty vehicle sales in 2019 totaled almost 17.1 million vehicles last year, a 1.6% decline compared with 2018.
In the UK, new car sales sunk to a six-year low in 2019, down by 2.3% on 2018 sales.
Post-COVID, things might further change
Corona pandemic, will make changes to a whole lot of things — how the world will behave and react will not be the same — and it will be no different in the auto sector as well. People will commute, but the safety from the virus will surely become the top priority.
If we ignore the cost, will you feel safe commuting in heavily crowded public transport or a commute which is more private? I am sure most of us would opt for later.
With so much of quarantine, isolation, and social distancing ingrained in our minds, avoiding crowded areas will become a norm for at least the next few months, if not years.
Metaphorically we can ignore cost but the reality is different, money is definitely a critical factor in our decisions. While those who can afford it will go ahead and buy four-wheelers – good for them, the car manufacturers and the industry.
For others who might not have the same privilege, that's where two-wheelers might emerge as a winner. Especially for developing and growing economies, two-wheelers tick a lot of right notes — privacy, convenience, affordability, and connectivity. A couple of things it might not provide is a roof above the head and a few extra seats.
For the people in the middle-income group who were largely dependent on mass commute options, shifting to two-wheelers is a distinct possibility. If stock markets are any indication, the share price of all the major Indian 2-wheeler companies has risen considerably in the last 2 months.
Still don't want to buy a two-wheeler, but also want affordability & security?
Another alternative that has the potential to challenge the commute system is tech-enabled shared micro-mobility solutions. Yes, I am referring to the bikes, scooters, and two-wheelers which can be taken on short-duration rent by leveraging technology.
You will get your privacy at a comparatively very lucrative price point.
Over the last few years, the world has seen an appreciable rise in micro-mobility companies. Massive urbanization, traffic snarls, and a burdened public transport system led to a lot of young commuters opting for a shared two-wheeler ride.
Owning a motorbike can take you back by $1000-1500 dollars,
What has taken people fancy is the ability to do self-service, which means there is no dependence on human agents. A user can find the vehicle, perform a quick KYC, make payment, lock & unlock the vehicle — the entire system runs on technologies like a mobile app, IoT, AI.
The solution gives freedom to drive at your own speed, the small size of the vehicle makes maneuverability so much convenient — sometimes it can make you reach faster than if you were to go on a 4 wheeler.
Market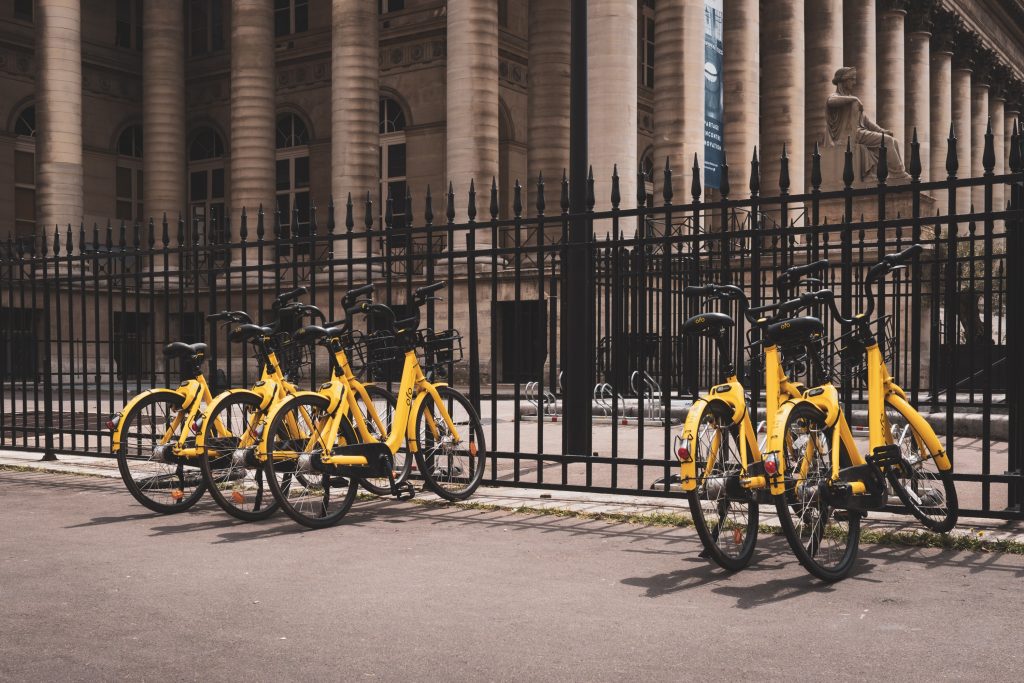 Docked bikes, dockless bikes, e-bikes, scooters have become a common sight in many big cities of the world. As per some estimates, micro-mobility options are available in 1000+ cities.
Wide-scale acceptance has led to a massive investment in this sector. Unlike car-sharing companies that are heavily capital intensive, the business model for scooters/bikes is profitable in a quicker timeframe and also makes the business easier to scale based on the demand.
That's the reason many 4–5-year-old startups have expanded to multiple cities and geography. 6-year-old, China-based Ofo is present in 250+ cities. Lime, which started in 2017 is available in more than 100 markets throughout the U.S. and Europe.
CB Insights predicts the US micro-mobility market to be worth between $200B — $300B by 2030. While more conservative estimates put the figure to $50 billion.
As per another calculation, 30+ micro-mobility startups have cumulatively raised more than $7 Billion of funding in the last 3–4 years.
The US, China, Europe, India, and SE Asia markets are witnessing most of the action.
Innovative solutions need to come out of the bike-sharing companies.
Having said that, for the startups to become a widely acceptable commute option, they need to make the life of consumers even more convenient.
Today, Millennial and Gen-Z customers have much higher expectations. That's why the companies need to do beyond just providing bikes and scooters.
Late last year, the US-based micro-mobility startup Lime launched a new weekly subscription-based offering. While another player Bird launched an all-inclusive monthly subscription, which gets the user one of the company's scooters delivered to their doorstep and the ability to use it an unlimited amount for a month.
An Indian startup, Bounce is offering 1 year – 2-year lease rental models, by paying monthly rents, the consumer can keep the bike for the selected duration.
Another Indian startup, Yulu from software city Bengaluru, collaborated with mom-n-pop stores around the city to store its batteries. Whenever the user runs out of the battery, they can easily locate the nearest battery-swapping store on the mobile app.
An urban mobility revolution in a post-COVID world
City planners need to provide adequate support for the system to run efficiently. The micro-mobility solution will not only reduce the excessive pressure on the mass commute systems, but also reduce traffic snarls, parking problems, reduce air pollution, will follow social distancing, and offer a sustainable alternative to commute.
The authorities need to take cognizance of the unlimited potential of this system and come out ways & means to promote it among the masses.
For scooters and bikes to become a viable long term transport mechanism, they will need heavy infrastructure support.
Vandalism, theft, illegal parking, lack of charging stations for electric bikes are the challenges which the industry need to address along with the regulatory and government bodies before they can take the mantle of long term option.