"Jab ghar ki raunak badhani ho, Deewaro ko jab sajana ho" – "Nerolac Nerolac"
"Rango ki duniya main aao, Rangeen sapne sajao" – "Nerolac Nerolac"
An Indian evergreen ad jingle means – when you want to increase the brightness in the house, decorate the walls of the house, bring colors to the home – use Nerolac paints. The brand in the advertisement was India's leading paint manufacturer Nerolac.
The Mumbai-based company would have never thought it will face competition from Cows and least of all its poo 💩.
How about painting your wall red using cow dung paint
In January 2021, India launched its first eco-friendly paint, named "Khadi Prakritik Paint" made with cow dung or cow poo.
The cow dung paint is developed by Khadi and Village Industries Commission (KVIC), a statutory body formed to promote, support & establish Khadi & village industries.
This is a one-of-its-kind wall paint product in the market with natural anti-bacterial properties and will be available in two forms—distemper paint and plastic emulsion paint.
Union Minister Nitin Gadkari launches India's first cow dung-based paint, #KhadiPrakritikPaint@nitin_gadkari @minmsme @kvicindia @awnusharma #EcoFriendlyPaint #KVIC

Read here: https://t.co/Yka5bRQBFf pic.twitter.com/2ISVjrP7ZJ

— CNBC-TV18 (@CNBCTV18News) January 13, 2021
As per a study conducted by India's Centre for Science and Environment (CSE), most the paint brands in India are normally packed with lead, mercury, chromium, arsenic, cadmium, etc. Making them extremely dangerous from a health perspective, the study indicated children exposed to paint fumes suffer from lower IQ.
The "Khadi Prakritik Paint" will be free from such heavy metals & toxic chemicals – making it environment friendly and nontoxic
The raw material of the paint will be cow dung, which will be mainly sourced from the village farmers owning cows for milk or agriculture. The paint manufacturing is estimated to generate an additional income of about Rs 30,000 (USD400) per annum per animal for these farmers. In order to make it a large-scale initiative, KVIC plans to set up 500 production units within the next six months in villages across the country.
The cost has been kept reasonable as well, the distemper variant is priced at only Rs. 120 (USD 1.6) per liter and emulsion will cost Rs. 225 (USD 3) per liter.
The cow dung paint has been certified by the Bureau of Indian Standards (BIS), the country's national body for giving quality certification of goods.
Why Cow dung paint?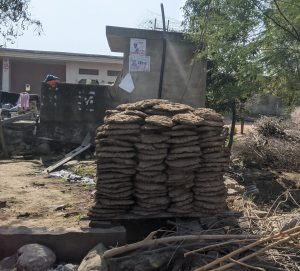 Some of us might find it disgusting, for some this might elicit weird feelings.
In Indian villages, the practice of using cow dung or flat patties made with cow waste for various purposes is an age-old tradition.
The people in villages collect poo from cows or buffalos and mix hay to form a dough. This dough is then made as flat patties and stuck mostly on the walls or sometimes even on the ground to dry.
Heaps of cow dung cakes lying near the cow shelters are a common sight.
Here is a video from YouTube for reference.
Cow dung is applied not only outside the house but its paste is also applied inside walls and floors.
But why? The properties in the cow paste ensure a balance of temperatures during winters and summers. The anti-bacterial properties of cow dung keep bacteria, insects, and mosquitoes at bay.
This is not the first time a product is developed using cow dung. In October 2019, Khadi and Village Industries Commission also launched soaps made of cow dung, named Panchgavya Soap. There are other manufacturers as well who sell soaps using cow dung and it's available on Amazon if you want to explore.
Before the advent of cooking gas, many Indian homes used cow cakes as fuel as well.
Japanese automaker Toyota is working on a power plant in the US to generate electricity and hydrogen.
All those who fret about cow dung, looking at the versatility of the innocuous cattle excreta, should now look from a different perspective.
Little more about Khadi and Village Industries Commission (KVIC)
KVIC covers about 0.25 million villages in India and has been playing an influential role to create large-scale employment in rural areas.
In the last few years, KVIC has been instrumental in developing eco-friendly products
In May 2020, in the middle of the Corona pandemic, it launched Khadi facemasks.
In October 2020, it launched India's first-ever khadi fabric footwear
In Assam, a bamboo incense stick-making factory was started in February 2021 through the efforts of KVIC. Apart from making incense sticks, the facility will leverage a huge quantity of bamboo waste into making bio-fuel.
In the last few years, due to cheap imports of incense sticks from China, domestic manufacturing in India went downhill. This facility is a step to revive the local industry, reduce imports, create employment opportunities and provide sustainable products.