Unlike Rugby, Hockey, Baseball, and Football, a Cricket game cannot continue in rain. If the rain goes on, the cricket game is called off and if it stops in between, the treacherous Duckworth-Lewis system is summoned, which no one can predict. That is not all, if the weather becomes cloudy, the ball starts to seam and move and when it is extremely hot, players become exhausted – impacting the performance on the field.
In the 2018 Ashes series, England team capital Joe Root retired hurt with dehydration, diarrhea, and vomiting at the Sydney Cricket Ground where the temperature recorded on that day was 43.4 degrees (Celsius). In another instance, Australian batsman Glenn Maxwell suffered heatstroke while practicing for the 2017 Test series in Bangladesh. These incidents are not rare, rather cricket fans have seen a number of times players suffering from cramps due to heat and humidity.
In the era of climate change, it is important that we speak about the impact of the changing weather patterns on cricket and its future. On one hand, Climate change is leading to extreme heatwaves that will result in more games being postponed, poorer performance because of heat exhaustion and heatstroke, or much worse. On the other hand, excessive rains are disrupting matches in between or the inundated cricket ground prevents the match to start.
We engaged in a wonderful conversation with a young English cricket player, and a sustainability champion, Joe Cooke.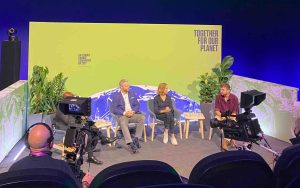 Joe plays as an allrounder for Glamorgan Cricket, a first-class county club within the domestic cricket structure of England and Wales. Joe was instrumental in his team championship victory in the Royal London One Day Cup tournament in 2021.
Well, we discussed less about Joe's cricketing prowess and more about his efforts in enabling discussions around sustainability causes. Joe Cooke is among very few active cricketers that have taken the cause of climate change. He has even spoken in a panel discussion on "How sport can help kick carbon" at Glasgow COP 26 Summit.
Below are the edited excerpts of our conversation, for the full discussion you can watch the video on YouTube.
What was your biggest motivation to express your thoughts about Climate Change?
Before I became a Cricketer, I was studying Earth Science at a University in Durham, located in the North of England. I ended up doing a lot of climate studies and learning about the stark picture that scientists are painting about our future.
In the process, I also did dissertation work related to the subject of Climate Change and Cricket. The study magnified the ways in which extreme weather conditions could affect our game, like disruptions, cancellations, etc. This was an eye-opener for me, which heightened my personal connection to the sport I love and how it could be impacted by the problem of climate change.
When I became a professional cricketer, I continued that interest and got opportunities to participate in various sustainability initiatives.
Was the connection with a climate more personal?
When I was learning about this problem as you grow up, it was like something which is going to happen in the far distant future. After you delve into science, you realize that this is not a problem that is going to transpire in the future, it is happening now and we need to deal with it.
Last summer in England, we lost a lot of cricket due to abnormal weather. Then at the end of the summer, Lords Cricket Stadium was flooded due to excessive rains. These things highlight that climate change is happening currently and that we need to act now.
Can you elaborate on how weather and cricket are related to each other?
As a cricketer, you are always at the mercy of the weather and the amount of cricket we miss is increasing. In Britain and especially my county Glamorgan receive a fair share of rainfall.
There was a case when England captain Joe Root was taken to hospital in Australia when temperatures reached 47 C. Now, new rules are introduced in cricket where games can be called off in case of extreme heat.
Cricket and climate change is a double-edged sword, where both extreme heat and rainfall can lead to cricket games cancellation and disruption.
Climate coalition, which is a group of green organizations in Britain has said that of all the major pitch sports, cricket will be most affected by climate change.
Do you think more cricketers need to speak about this issue?
There can definitely be more messaging about the issue, but things are beginning to show up like Pat Cummins's initiative to invest in solar energy. It is a brilliant idea that will have massive potential. This will demonstrate that we are not just talking about the issue but investing money and helping clubs to decarbonize themselves.
As a sport, we are positioned beautifully to lead on this and encourage action to create a better world.
Travel constitutes a lot of negative carbon impact for sports athletes but what are the environmental aspects where athletes can contribute positively?
Most of the time, travel is something which sportspeople cannot avoid and it leads to criticisms as well. The argument against us being called hypocrites is that we are all hypocrites, and at this moment all of us need to make the change.
Diet is one aspect that has a huge impact in terms of climate. We see many cricketers switching to a vegan or vegetarian diet, not just for the environment but for health reasons as well.
Another thing that sportspeople can do is share the right messages which can influence fans and get them excited about it. The messages could be about small habits like not using plastic bottles, carrying reusable bottles, etc.
From the long-term perspective, things like Pat Cummins's initiative of decarbonizing the energy system are something which we can do. This can include installing solar panels, particularly in countries like India which has so much potential to harness solar energy.
Any thoughts on the travel part?
There is definitely a need to look into sports travel because the way teams travel day after day is ridiculous.
Offsetting carbon emissions is an option for cricketers, it is an evolving space and we also need to be cautious about the greenwashing that is happening.
The cricketing bodies can think about aspects related to the scheduling of fixtures that can limit flying and travel. That is something which English Cricket Board (ECB) is considering in Great Britain, which is great to see.
Can you tell us about the sustainability initiatives that you have been part of?
There are various things I have been involved in my short career related to sustainability.
I am part of Eco Athletes, which is a global organization that empowers athletes to talk about this problem and the need for change.
I work with a company called Hylo which creates trainers out of renewable materials such that it does not go to landfills and pollute the environment.
I work with Friends of the Earth, which is a UK-based environmental charity. In the United Kingdom, there are so many supermarkets that do not have doors on their fridges and there is so much energy that is wasted. We discovered that the energy usage of fridges in the UK supermarkets is almost 1% of the total energy consumption in the UK. As per our calculation, equivalent to 700,000 houses energy could be saved if we are able to put doors in the fridges. It is such a simple change that can have a massive impact on our decarbonization efforts and energy effeciency lessens the need for fossil fuels.
At the moment I am also involved with Glamorgan Cricket efforts to reduce the environmental impact across the entire club. We are putting together plans of how we can become better for the environment.
Sustainability in sports is a massively growing area and many organizations like Sport Positive, BASIS (British Association for Sustainable Sport), Maikai among others are helping sports athletes take action towards sustainability.
How many fellow cricketers you are able to convince for the environmental causes?
There are many players who have started to talk about climate.
Not many of us are lucky to have studied like me, which makes it difficult for them to make a start, but within our team, there is a lot of conversations that are happening in terms of climate action.
Do you have any big plans for the future about sustainability?
My immediate goal is to focus on Glamorgan cricket and see if we can transition towards net-zero. In terms of my wider goals, I have to see how that goes, as I am still playing cricket and lucky to be part of many causes.
How do you manage time between cricket and sustainability causes?
I really enjoy doing things outside cricket as it gives me perspective, peace of mind and also helps me play with more freedom on the cricket field.
What is your personal connection with nature?
My girlfriend is a conversationalist, she is educating me on wildlife and nature.
Personally, nature is extremely important for me, not just from the climate perspective and the amount of carbon it can absorb but also for my mental health. Whenever life gets too much for me I need to be near nature to relax. Being with nature enables me to be more content and happy.
Apart from that, I am vegetarian, try to buy sustainable clothes wherever possible, and avoid fast fashion because that also has a huge humanitarian impact. I am always trying to do more and make my individual environmental impact as little as possible.
Any message to your fans and cricket followers?
There is so much change that is happening, especially in the last two years. Hopefully, this will accelerate even more where sports and cricket can be a big part.
In terms of individual action, people should educate themselves on small habits as those actions can make a massive difference.
You can watch the full interview on the Change Started YouTube channel.