Animal agriculture is one of the leading causes of climate change as it contributes more than 10% of all human-induced greenhouse gas emissions. Along with the enormous land and water requirements, artificial insemination, and mistreatment of animals – the meat industry has earned a lot of flak in the last few years.
Having said that, food and especially the one made with animal meat has not only huge significance from a dietary perspective but also from taste and preference for a vast majority of people. It is a huge conundrum for those food eaters, whether to compromise the environment or the taste.
Fortunately, there is a solution, for those who are willing to adapt – Meat made with plant-based ingredients like jackfruit, mushroom, soy, lentils, etc.
Plant-based meat, not only looks and tastes like meat but is good from a health perspective as well. Also known as smart proteins and mock meat, the plant-based meat market has grown exponentially in the last 6-7 years.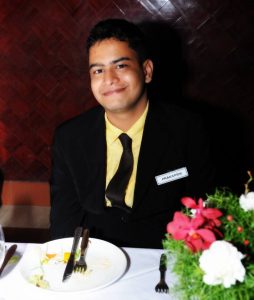 Plantmade is a food-tech startup from India, which offers a variety of plant-based food options. The company has created various plant-based products which resemble meat, egg, and other animal-based food items – Peshawri seekh kebab, vegetarian egg, turmeric milk, vegan masala chai to name a few.
We got an opportunity to interact with the man who is driving this plant-based meat company, Prakarshi Pulkit.
Prakarshi, a passionate food lover, started his career as a chef at India's prestigious hotel chain, ITC Hotels. After spending years in the hospitality sector Prakarshi decided to make a switch towards sustainability.
He got associated with Four Pursuits, a company that is at forefront of the social impact and sustainability sector. Four Pursuits invested in Plantmade and with the support & research from India's premier engineering college, IIT Delhi, the food company started offering healthy & sustainable vegan alternatives.
Four Pursuits has also supported projects like the blockchain-enabled food traceability project and a food farming project.
Prakarshi shared his own personal journey, his thoughts on the plant-based meat industry and the dairy segment, about future plans for Plantmade and Four Pursuits.
Below are the edited excerpts of our conversation, for the full discussion you can watch the video on YouTube.
Tell us about your journey?
I did engineering in computer science and soon realized that I will be mediocre at best as my heart really lies in food and learning more about it.
I decided to take a big leap of faith, left my engineering, and joined culinary arts college. I was fortunate that I got into the ITC trainee management program and went on to work at ITC Hotels for about 6.5 years.
Gradually I got interested in cell-based and plant-based space in the world. My main interest in this segment came because I was part of the system, which in the name of luxury has one of the most wasteful and unsustainable practices. Though we (the hotel industry) talked about sustainability and local supply chains, none of these things were followed in reality.
I genuinely wanted to change the things which I did in this world and the impact that I have left. I started doing research and that's how I got involved with Four Pursuits and professors at IIT who were doing research on mock meats. I initially started to help them in my free time and eventually joined them as a co-founder in January 2020.
Four Pursuits funded the research at IIT Delhi to make plant-based alternatives to egg, chicken, fish, pork, turkey, duck, etc.
Initially, we thought it will be an easy venture where IIT would give us the product and we will take the product to the market, but it didn't work out.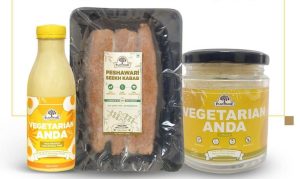 It took us a long time to bring the idea from the lab phase to a real product, that can be placed in the store. Then there were challenges with respect to logistics and supply chain, subsequently, the pandemic hit us all, which further delayed the plans.
Finally, we were able to launch our first plant-based alternative to eggs in September 2020. Slowly we have launched more products in the last few months, like plant-based mayonnaise, kebabs, lamb, cream, etc.
We are further increasing our range to include more plant-based alternatives in our portfolio.
For doing this you would need lots of resources, how are you managing that, especially the capital?
I am blessed to have a great mentor, Mr. Rahul Dewan, he is a self-made entrepreneur. He established a successful mid-sized tech company, Srijan Technologies, which he started in 2002 without any outside assistance.
Rahul is a visionary and the primary founder & investor of Four Pursuits. With whatever success Rahul has achieved, his idea is to give back to the world by supporting social impact businesses. Currently, all the financial assistance to Four Pursuits comes from Srijan Technologies, however, our target is to become a self-sustainable company in the near term.
At some point, we also realize that we might have to raise outside funds if we have to grow and scale up. We understand that we have to first create a robust business model and not something which is just for the sake of valuation. Therefore we are cautious of our spending, our budgets, and finances.
What is the process behind identifying an opportunity and subsequently pursuing it?
For any venture, we embark upon, the first thing which we see is what kind of social impact and environmental impact it will have. Then we look at the market and if there are any institutions that are doing research in this space.
Till now, primarily we have gone to large institutions and academia to fund their research projects and collaborate with them.
Apart from plant-based meats, we have funded a blockchain-based food traceability project, which is about honey traceability. This solution helps the consumer to scan the QR code on the jar of honey and know the entire supply chain including the exact location from where the honey was sourced.
How do you see the plant-based meat business doing in India?
I think more than 70% of Indians eat nonvegetarian food, either regularly or irregularly, but I am hopeful that there can be a great change in India.
Firstly, a significant population in India is below the age of 29, who has the access to the internet and they understand the impact of food on the climate, environment, animals, zoonotic diseases, etc.
Secondly, over time, meat has become a source of cheap proteins and a reward system in our society, where for every special celebration, non-vegetarian food becomes a feature.
Now, if plant-based meat companies are able to provide an alternative by offering better prices, tastes, and convenience, then things will surely change. Then probably meat companies will have to get someone like Sachin Tendulkar to sell their products.
Things will not change immediately, it will take few years, until that time, about 6 million people in the top 10 cities in India, who have high disposable income and are more environment-conscious, will become the early adopters. They will bring the tide of change.
We are already witnessing that as we see many celebrities, sportspeople, fitness experts, etc. who are turning to a plant-based diet. As this percolates down the pyramid and with higher volumes, we will be able to bring down the price of plant-based meat products and this will ensure a huge transformation in the market.
What is your view of the plant-based meat startups coming up in India?
The plant-based meat market is not new in India, Ahimsa Food is selling mock meat products from 2008 onwards. Having said that in the last 1-2 years, we have seen an explosion in this sector.
The amount of funding that has gone into the sector.
The number of VCs, and investors who have entered the space.
The research and innovation happening in the plant-based segment.
I believe all this will continue to grow.
Thanks to Impossible Meat and Beyond Burgers of the world, by making a small tweak in the technology and getting the blood taste from the heme iron of the bacteria, they have transformed people's perception about mock meat.
In India the opportunities are endless in the plant-based meat space, we have not even scratched the surface. As more companies enter, consumers will get more choices and greater adoption.
What is your take on the dairy segment, considering it operates more like a cooperative structure in India?
Milk in India is deeply rooted in our beliefs, customs, and social fabric.
Having said that, cow milk was biologically designed by nature to make a 10 kg baby calf grow into 100 kgs adult in like 6 months. Humans do not need that much consumption of milk on a daily or regular basis.
Even if you look at any other species, none of them consume the milk of a different species. Moreover, data suggests that the majority of people are lactose intolerant, but as we have been consuming it regularly, many of us have got used to it.
The dairy industry was not taboo in the olden days when families used to have a couple of cows in their homes. Those cows would give milk only for a certain period of their lifetime, which would primarily be given to the calf and the remainder would be taken for human consumption. Those times were different, as cows were not artificially impregnated all throughout their life.
It becomes grim and dingy in the current times when you see large-scale animal and cow farms. The farms where cows are not treated properly, are artificially inseminated on a continuous basis and pumped with antibiotics & steroids to make them give 5 to 10 times more milk, that is when it starts to look a little creepy and suspicious.
My view is that if we are doing it in a sustainable manner and consuming milk occasionally, then I don't think we have a problem, but currently there is a big problem.
What are plans for the company in the coming future?
Currently, our main focus is on plant-based meat, where we are able to launch few products and expand our portfolio. The plan is to get a lot of products that can add value to consumers' daily dietary needs and offer healthy alternatives.
We are looking to establish our own distribution centers in big cities because that is where most of the traction is. Gradually we will look at other smaller cities and eventually take it abroad.
In addition, we are also working on a blockchain-based honey traceability project and food farm projects, but those are at an early stage. We have to explore how we can make them viable businesses.
Does Four Pursuits help smaller businesses and young entrepreneurs in this segment?
We have just started an entrepreneur program where we invite chef entrepreneurs from the hospitality industry to set up an online delivery kitchen with a plant-based menu. We give the resources needed like raw materials, provide training, do the documentation and even help in marketing.
Apart from that, if an entrepreneur has an idea that can be commercialized, we can collaborate with them and take it ahead. Unlike VC and other investors, we do not intend to take a big chunk of equity rather build things together.
What was the thought behind the name Four Pursuits?
It was Rahul Dewan's idea where we believe that every being and every soul has four pursuits in their life –
Kama (Desire),
Dharma (Righteousness),
Artha (Wealth), and
Moksha (Final Liberation)
That is our thought and what we want to do with the company.
What is your personal connection with the environment and sustainability?
If you met me a couple of years back and told me that you are a vegetarian, I would have given one hour lecture on what you are missing in life. That time I never really thought about the food.
Over the past year or so, I started making changes in my life, like gradually reducing my meat intake and eventually becoming vegetarian.
Our family has all been sustainability advocates, we are very conscious about the plastic we use and follow a zero food waste lifestyle. There are definitely more things which we can do, but it is about getting more conscious and make small efforts to bring change.
You can watch the full interview on our YouTube channel.
Indian mock meat market might not be at the same levels as the ones in the US, UK, or Singapore, but it is rising steadily. The number of plant-based meat companies has significantly grown in the last 2-3 years.