When we discuss Indonesia, our conversations would be about its islands and the beautiful beaches that surround each of its islands.
If the talk meanders around Indonesian food, popular mentions would be nasi goreng (fried rice), sate Ayam (chicken sate), or the ones made with seafood. As Indonesia is known for spicy and herbs-rich nonvegetarian food, tourists and people outside Indonesia would rarely speak about food called Tempeh (pronounced as Tempe).
Tempeh is one of the favorite vegetarian food of Indonesia, it is made using whole soybeans and it's fermented in a loaf-sized shape. One of the most popular ways people eat their Tempeh is deep-fried or pan-fried, it can be eaten as a snack, added to salads, bread, and curries.
Tempeh is extremely nutritious, rich in protein, vitamins, and fibers, hence it makes for a great meat substitute. But that's not what Vaibhav would like us to call it. Vaibhav is the owner of Tempe Wala, a Bengaluru-based company that specializes in making Tempeh. He would rather refer to Tempeh as a wholesome and filling food in itself, rather than being discussed as a meat alternative.
Due to its health benefits, Tempeh is getting increasingly popular across the globe and a slew of startups have introduced Tempeh in the market.
We got an opportunity to speak to Vaibhav, who first started a vegan restaurant, Vegan Heat, and then introduced Tempeh to the menu. To perfect the craft of making Tempeh, he traveled to Indonesia to learn from the very best.
In 2019, he founded Tempe Wala in Bengaluru. The young startup currently caters to the city of Bengaluru but has plans to bring this Indonesian food to the rest of India as well.
Below are the edited excerpts of our conversation, for the full discussion you can watch the video on YouTube.
What is Tempeh?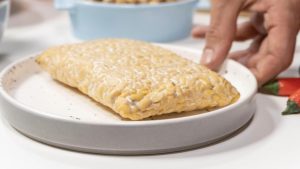 Tempeh is a superfood made of fermented soybean that is probiotic and extremely high in proteins with zero cholesterol and transfat.
It was discovered more than 2000 years ago in Indonesia when they tried to store the boiled soybean in the banana leaves and it started fermenting. They took out the culture and started using it as food and Tempeh was found.
How did you get involved with Tempeh?
I am a vegan and I started a restaurant called Vegan Heat in 2017. At that time I realized, consumers are not interested in eating vegan food as most of our Indian diet is already vegetarian, and our restaurant is not bringing anything unique into the market.
Then I started exploring options, that are healthy and unique and I came across Tempeh. I established a facility to make Tempeh, but it was close to impossible to get it right and we were not able to give the same taste & experience.
My curiosity got the better of me and ended up going twice to Indonesia.
There I saw more than 250 thousand local businesses involved in Tempeh, this was just in Java the birthplace of Tempeh. The local government is also providing a lot of support to the Tempeh makers.
There I learned the art of making the real Tempeh decided to bring the food to India and started Tempe Wala in 2019.
From being a mechanical engineer to a food engineer, what motivated you to get into this segment?
Being a vegan, it was difficult for me to find food places that have plant-based options, with no dairy and honey, etc. That's when I started Vegan Heats because I saw that there is no eatery available that has plant-based meals.
Initially, the idea was to offer this as a solution for people who are vegan and want to try plant-based meals, but now I am completely into this.
What is your opinion about the plant-based meat industry?
As an animal lover and vegan person, I can do anything to give an animal a chance, but it's good to see people having an open mind and trying alternate food options, like plant-based meat.
If you compare anything with the original, it can never be the same, a duplicate is always a duplicate, but the intent behind the duplicate is motivating people to try plant-based meat options and I am sure it will continue to grow.
I also feel, more than the environment many people are coming for the health benefits. A lot of people are turning into veganism.
Many people have come to me asking for advice on going vegan, but they ask me for substitutes. I feel that approach is flawed, we don't need meat alternatives, instead, we need products that are superior and better than meat. The product should be marketed as a great product in itself and meat should be out of the market.
If we market products as meat substitutes, it has a chance of falling back. There are many people who go vegan and then come back to eating dairy and meat, as they approach by replacing diet with substitutes.
That is the reason we don't market our Tempeh as a meat substitute or a protein alternative. As there will always be people who will find fault and point out what is missing etc.
What are the challenges have you faced in this journey?
The biggest challenge was convincing people to try vegan food. Having vegan in the name of the restaurant, we were losing many of the customers.
People who are not vegans will have a mindset that if I am not vegan, why should I go to this place. This problem is emphasized because the young population is getting influenced by western diet and lifestyle.
Gradually with food delivery platforms, we started getting orders and have managed to motivate people to try vegan options.
What are the advantages of having Tempeh and soybean-based food?
Soybean is very accessible and affordable, you can get 1 kg of soybean for Rs 55 (~$1) and organic one for Rs 115 (~$1.5).
It is extremely good from a health perspective, they are rich in protein and essential amino acids. They also contain plant fats, fiber, vitamins, and minerals.
Growing soybean gives jobs to farmers and local communities.
Most importantly, soybean and plant-based products are great for the environment. Even though this is not palpable which might discourage people, but we have to give time and in long term, we will witness the impact.
Having products that are made with soybeans like Tofu, Soy Milk, Soy Curd, Soya Chaap and Tempeh are delicious and extremely satisfying.
I feel everyone should include soybean-made food as a staple in their diet.
How is the growth in your business and what are your plans?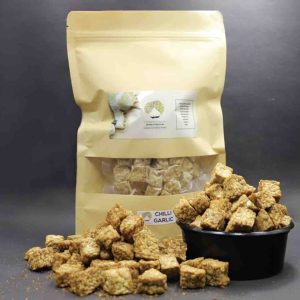 When we started, there were hardly any sales, but now we are seeing good business, customers are returning and we are getting good feedback.
We have about 3000 orders a month, this includes Vegan Heat and Tempe Wala.
I want to reach more Indian cities with fresh Tempeh and have a plan is to have offline stores where people can come and eat. In addition, we want to have zero carbon footprint, by having biodegradable plastic for packaging, electric vehicles for delivery, and solar power for energy.
Hopefully, if we are able to raise funds these things would happen soon.
What is the shelf life of Tempeh?
My Tempeh can be stored in a freezer for a year, but at room temperature, it is about 6 hours.
That's the reason that we cannot take our products to other cities, during the transport, different packets of Tempe Wala products would be stacked on top of each other which increases the risk of further fermentation and spoilage.
What was the reason for giving the name Tempe Wala?
This happened because of the 75 years old man from whom I learned Tempeh in Indonesia. He is a scientist and has three facilities (in US, UK, and Indonesia) and his company is called Mr. Bean Tempeh, and he proposed that if he has a facility in India, he would name it Tempe Wala.
That's how we got the name.
What is your personal connection with the Environment and Nature
Recently, we switched from a fuel car to an Electric car, then we have solar power and a garden in the house, where I also do permaculture.
But I feel my biggest impact on the environment is because of my vegan diet.
You can watch the full interview on our YouTube channel.