This is my personal observation, I have heard many budgets presented by the Indian government over the years, but I have not heard the usage of words like Climate Action, Climate Change, Climate Finance, Sustainable Development, Sustainable Mobility, and Sustainable Living in the budget speech.
Finance Minister of India, Nirmala Sitharaman presented the Indian government budget for 2022-23 on 1st February 2022. At the outset of her budget speech, Finance Minister laid down four priority areas that will aim to steer the economy for the next 25 years. One among them was "Productivity Enhancement & Investment, Sunrise Opportunities, Energy Transition, and Climate Action."
As the Indian economy strides towards achieving the US$ 5-trillion goal in the next few years, climate action is not only necessary to address the vagaries of climate, but is also needed to generate jobs, lower energy imports, and propel economic growth.
During the course of her speech, the Finance minister mentioned "climate" 7 times and "sustainable" in the context of the environment 9 times, in her budget speech of about 90 minutes.
While many articles and analyses have been published on the pros and cons of budget 2022, Change Started will focus on the big-ticket aspects related to the environment and climate change. We have also provided our view on the budget announcement.
Energy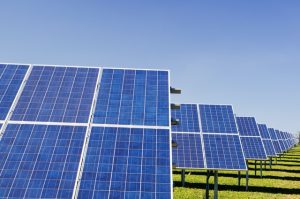 Additional allocation of Rs 19,500 cr for PLI for manufacturing of high-efficiency solar modules
Budget announcement: To facilitate domestic manufacturing for the ambitious goal of 280 GW of installed solar capacity by 2030, an additional allocation of Rs 19,500 cr (US$ 2.6 bn) was made. This will support the government Production Linked Incentive Scheme (PLI) for the manufacturing of high-efficiency solar modules.
Our Take: India is currently highly dependent on imports from China for solar photovoltaic cells and modules for the country's renewable energy ambitions. The Production Linked Incentive Scheme (PLI) scheme is aimed at reducing import dependence and promoting domestic manufacturing.
As per Mercom, India imported solar cells and modules worth $3.52 billion in 2021, compared to nearly $475.78 million in 2020, that's a massive jump of 641% year on year and more than 90% imported from China.
India's private sector companies like Reliance New Energy , Adani Green, Borosil Renewables, and Tata Power among others have already taken the lead by augmenting their capabilities to build solar manufacturing capabilities.
The announcement made in this Budget 2022 is an addition to the earlier allocation of Rs 4,500 crore (US$ 0.6bn), bringing the total to Rs 24,000 crore (US$ 3.2 bn), which will bring a huge boost to India's solar energy needs. The PLI scheme will not only boost India's self-reliance and Make-in-India dreams but would also bring efficiencies in large-scale solar grid projects.
Ensure lower emissions through biomass pellets
Budget announcement: The government also mentioned how bio-mass pellets will be used in thermal power generation to ensure lower emissions. The budget says that 5-7 percent of bio-mass pellets will be co-fired in thermal plants resulting in CO2 savings of 38mnte annually.
Our take: While on the one hand, renewable energy remains a huge focus to reduce dependence on coal, on the other hand reducing the coal required to generate Thermal power also needs to be reduced. Thermal plants in India consume approximately 700 million tonnes of coal each year to generate electricity. The Budget 2022 announcement of 5-7 percent of bio-mass pellets will not only help save coal but would also encourage farmers to convert crop stubble into pellets.
The execution of this plan will be interesting though bio-fuels have remained a big focus of the government, its implementation is a major challenge.
Bringing Energy Efficiency
Budget announcement: Saving energy is an important aspect of energy management. Hence, energy efficiency and savings measures will be promoted. This will be done in large commercial buildings through the Energy Service Company (ESCO) business model. It will facilitate capacity building and awareness for energy audits, performance contracts, and common measurement & verification protocols.
Sustainable Farming
Focus to promote
Chemical-free natural farming in India
Budget announcement: The Budget focuses on promoting zero-budget natural farming and discouraging so-called chemical-based agriculture. Chemical-free natural farming will be promoted throughout the country with a focus on farmers' land in 5 km wide corridors along the river Ganga, in the first stage. In order to boost farmers' income and address the issue of air pollution and stubble burning, the budget provides support to enable 5-7 percent co-firing of biomass pellets in coal-based thermal power plants.
In addition, 2023 has been announced as the International Year of Millets. The Budget has made provisions to support post-harvest value addition, enhancing domestic consumption, and branding millet products nationally and internationally.
Our take: Chemical and fertilizer-laden agriculture products are not only unhealthy from a consumption point of view but also detrimental to soil and water. The chemicals from the farmland get washed and enter the rivers and ocean, posing a huge risk to the marine ecosystem. However, it will be interesting to see its adoption by farmers on the ground and if this will be a prelude to the rationalization of chemical fertilizers subsidies.
Support for millet cultivation will not only ensure a healthy and nutritious diet for citizens, but millet is great for the ecology. Unlike rice and wheat, they need much less water, can be grown in harsh conditions, and do not need pesticides.
Sustainable City
Promote urban town planning
Budget announcement: For urban capacity building, support will be provided to the states. Modernization of building bye-laws, Town Planning Schemes (TPS), and Transit-Oriented Development (TOD) will be implemented. This will facilitate reforms for people to live and work closer to mass transit systems.
Our Take: Given the country's massive population and pressure due to rapid urbanization, India needs an urgent measure to enable its cities to become more sustainable and reduce their carbon footprint. The simultaneous attainment of financial, environmental, and social sustainability of urban services is an important requirement of urban development. Sustainable Indian cities will play an essential role in developing societies that is safe, healthy, and emissions-free.
Battery swapping policy
Budget announcement: Considering the constraint of space in urban areas for setting up charging stations at scale, a battery-swapping policy will be brought out and interoperability standards will be formulated. The private sector will be encouraged to develop sustainable and innovative business models for "Battery as a Service" (BaaS) or "Energy as a Service". This will improve efficiency in the EV ecosystem.
Our Take: Indian government announced the Faster Adoption and Manufacturing of Hybrid and EV (FAME) scheme in 2015, with an objective to electrify transport in the country and provide incentives for electric vehicles. Though there is massive traction in the electric vehicle ecosystem still a lot of ground needs to be covered, hence the battery swapping policy will help with the deployment of charging infrastructure at scale, which will further boost the EV industry.
Batteries constitute approximately a quarter of the EV cost, which makes owning an electric vehicle very costly. In Aug 2020, the government of India allowed the registration of Electric vehicles without batteries, which makes buying the vehicle much cheaper initially. Battery as a Service model will enable EV drivers to quickly replace their depleted batteries with fully-charged ones at charging stations, instead of waiting in a queue for charging or additional time spent on charging.
Special Mobility Zones
Budget announcement: To promote a shift to the use of public transport in urban areas, FM also announced that special mobility zones with zero fossil fuel policy will be introduced.
To push tourism, 8 ropeway projects to ease congestion in hilly areas.
Budget announcement: The Parvat Mala announcement with 8 ropeway projects in 2022–23. This will ease transport-linked congestion in hilly areas and push tourism. National Ropeways Development Programme to be taken up in PPP mode with the aim to improve connectivity, besides promoting Tourism.
Our Take: Apart from tourist benefits, the ropeway can act as an efficient public transport system, which is already implemented in many cities across the globe. The electricity-powered system is much more energy-efficient compared to other modes of transport which are fossil-fuel-based. Ropeways will also reduce road congestion, lower noise pollution, and be emission-free.
You can read more about ropeways as a public transport system and plans to bring this to the city of Varanasi.
Sustainable Finance
India to launch sovereign green bonds
Budget announcement: As a part of the government's overall market borrowings in 2022-23, sovereign Green Bonds will be issued for mobilizing resources for green infrastructure. The proceeds will be deployed in public sector projects which help in reducing the carbon intensity of the economy.
In addition, services for global capital for sustainable & climate finance in the country will be facilitated in the GIFT City, which is a planned business district in the Indian state of Gujarat.
Our take: This makes India one of the very few countries that have issued sovereign green bonds. This will also help the country to develop a domestic green bond market, where the private sector is able to raise money for green investments.
Here is an article to tell you about Green Bonds.
Wrapping Up
The year 2021 was a momentous year for India, India was the fastest-growing major economy in the world, amidst the pandemic when the entire world is struggling. It was also the year, when for the first time, India at COP 26 in Glasgow, committed to becoming a net-zero economy by 2070 along with increased renewable energy goals.
The country has also made the announcement to have a National Hydrogen Mission in last year's Budget to produce Green Hydrogen. Across the world, Green hydrogen is looked upon as the cleanest source of energy which will take countries to net-zero goals.
The Budget 2022 announcement ensures that investments in the green sector see an impetus. The series of announcements will hopefully expedite growth in the green energy space and will play a pivotal role in shaping India's economic trajectory.
India expects climate finance of $1 trillion per year from developed countries to fund its net-zero commitments. In order to mobilize the financial resources, the country needs to lay the groundwork. It won't be wrong to say that Budget 2022 is one of the first green budgets presented by the Indian government which will go long way in setting the course of climate action of the future.