Hemp is a wonder plant whose use is not just limited to medicinal purposes or as a recreational drug.
Industrial hemp is now being put to use to make a variety of products. The hemp plant is cultivated and is used across personal care products, nutritional supplements, paper, construction materials, food, and beverages, textiles, and home furnishing applications.
While the versatility of hemp is one aspect, another benefit is its ability to fight climate change.
The hemp plant does not need pesticides, herbicides, or fungicides and thrives on less water than most crops. Hemp is a carbon-negative crop as it absorbs carbon dioxide while it grows through natural photosynthesis.
Let us look at companies that make Hemp products that you can buy in India.
Ananta Hemp Work
Gurgaon-based startup Ananta Hemp Works offers beauty and personal care products in multiple categories. Founded in 2020 by two friends Abhinav Bhaskar and Vikram Bir Singh, the company has products like hemp seeds, hemp oil, pain relief medicines, body creams, soaps, face serum, etc.
Boheco
In 2013, seven students of Mumbai-based HR College of Commerce and Economics founded Bombay Hemp Company (Boheco), to revive the use of hemp products in India. The company manufactures a range of products including beauty, personal care, healthcare, nutrition, apparel, etc.
B Label is a clothing line under Bombay Hemp Company that makes a range of male and female apparel using hemp fibers. The product range includes scarves, stoles, and a variety of ready to wear including shirts and sweaters made using hemp fabric.
Boheco has also opened a Cannabis Health and Wellness Centre in India's Information technology hub Bengaluru to sell its products and also increase awareness about Cannabis and Hemp.
Ecentric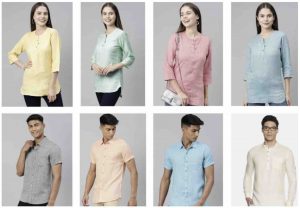 Bengaluru-based Ecentric is an Indian sustainable fashion brand that makes hemp garments for both males and females.
We spoke to the founder of Ecentric, Salendara Gupta, and he provided the rationale for using Hemp in fabrics. "Hemp is a cannabis plant that is a bast fiber like linen or other natural fiber, and its environmental impact is almost 4 times less than cotton. It doesn't require fertilizer or pesticides, and it helps in protecting against soil erosion. I was very intrigued by the environmental impact and the quality of the fabric. It keeps you warm in winter and cools in summer. Then I thought let me take forward this idea by starting this brand using hemp fabric."
Currently, the industrial hemp supply chain in India is limited and hence Ecentric has to source hemp from places like Turkey to meet its demand. Processing, spinning & weaving of the yarn is done by the company in India.
Ecentric men's wear includes shirts, kurtas, shorts, and lounge pants and women's wear includes dresses, kurtas, tops, and lounge pants.
Happie Hemp
Founded by Sumit Sinha, Happie Hemp is a biotechnology company focused on making traditional medicines. The Ayurvedic medicines are formulated using Cannabis leaves extracts and Hemp (Cannabis Sativa L.) seeds. Happie Hemp medicines are used for various applications like hair & skin, joint and muscle, and overall wellness.
India Hemp and Co
Indian Hemp and Co is a company started by two sisters Shalini Bhattacharya and Jayanti Bhattacharya in 2019. The company makes food products with hemp seeds.
Indian Hemp company was one of the environment-friendly startups that made an appearance on the popular reality show, Shark Tank India. The TV show helped in highlighting the importance of hemp products in India. The founder explained to the Shark Tank investors that hemp is highly nutritious, anti-inflammatory, and a rich source of proteins, and dietary fiber.
The Bengaluru-based company is into multiple product categories like pet food, hemp seed trail mix, protein powder, and hemp seed oil, among others.
OG Hemp
OG Hemp is a Kolkata-based startup that makes paper-based hemp products in India. Starting in 2018, the company makes and designs hemp paper products that can be used for stationery (diaries, envelopes, bookmarks, etc), packaging bags, art, and craft items, etc.
Wrapping Up
While ancient Indian scriptures have mentioned Hemp for its uses, however, because of various factors, its prominence was limited. In recent times, its possibilities are again being explored and as a result, different kinds of hemp products in India are being created and marketed.
Having said that, in our conversation with Ecentric co-founder, Salendra, he highlighted that not all Indian states allow industrial hemp cultivation. This makes the Hemp companies rely on imports, which increases production costs.
Another drawback of hemp is its association with psychoactive effects, which dissuades many Indian shoppers.
Therefore it is important that industry stakeholders come together and apart from creating hemp awareness also take their case to decision-makers for favorable policies.
The list of Hemp startups might be small as of now, but with the easing of regulations, and people experiencing the benefits, the market will only increase.