It is that time of the year when we do our year-end review of the green startups in India and list the ones that have shown tremendous potential and growth. If you have not checked out our last year's list, you can read it here.
Climate change is one of the biggest challenges that humanity is facing, and each of one us has a role to play. Therefore it is not only governments but companies, startups, and individuals, all of us have a major role to play in tackling this issue.
It is interesting that India is the third-largest greenhouse gas emitter and also has the world's third-largest startup ecosystem in the world after the US and China. In a way, it is also symbolic that it will be the new-age startups that will solve the emissions created by industries over the years.
From cutting down emissions directly or offering products that promote circularity and sustainability, Indian startups are making their presence felt. We looked at Indian startups that work in the environment and sustainability field that we consider to have the ability to make it big in the coming few months.
Indian Environmental Startups of the year 2022
This list represents 11 Indian green startups in alphabetical order, that are working for sustainability and the environment.
Beco
Founders: Aditya Ruia, Akshay Verma, and Anuj Ruia
Beco is a sustainable lifestyle brand based out of Mumbai, that is creating alternatives for everyday lifestyle products. Beco has a range of products for your personal care, kitchen, and home needs, that are made with cornstarch, bamboo, sugarcane, coconut, and other plant-based materials.
The company was founded by three young entrepreneurs in 2019 and in a short span of time has made an impact in terms of capturing consumer mindshare. Their first product was Bamboo earbuds and have now expanded into paper rolls, liquid detergents, toothbrushes, garbage bags, etc.
In our interaction with one of the co-founders of the company, Aditya Ruia earlier this year, he alluded to Beco's growth in terms of numbers.
"Our digital growth is almost 5x in the last 5 months and we are planning to grow 8x this year. On the demand side, we are shipping almost 30,000 to 40,000 orders a month."
In September 2022, the company has raised $3 Mn in its Series A funding round led by Rukam Capital along with other investors. The D2C startup also plans to take Beco products to the international market, which Aditya mentioned in our interaction.
"Our intent is to build India's biggest eco FMCG brand and also make it global. The idea is to build it in a way that allows us to scale the products we are building in India to the outside world."
---
Bolt
Founders: Mohit Yadav and Jyotiranjan Harichandan
Bolt is an electric vehicle charging company that is enabling faster EV adoption in India.
For India to increase its penetration of electric vehicles, an efficient charging infrastructure is required and that's where a company like Bolt is making its presence felt.
The company provides EV charging points and also helps EV users find the nearest available charging point.
The Bangalore-based company has installed over 15,000 charging points across 300 different cities in India. In April 2022, the startup entered into a partnership with India's leading 2-Wheeler EV company, Hero Electric, to add 50,000 new charging stations by 2023.
Eeki Foods
Founders: Abhay Singh and Amit Kumar
Eeki Foods is an Agritech startup that has developed large-scale, climate-proof farms that allow food to be grown throughout the year without being affected by seasonal variations.
Given the pressure on the food system due to population growth, climatic disturbances, and shortage of arable land, the world needs resilient and sustainable ways to grow food.
Founded in 2018, Eeki foods farming facilities do not use soil and coco-peat to grow residue-free vegetables. The hydroponic growing chambers work on water that considerably reduces costs and the need for fertilizers etc. The Kota-based company also leverages technology to manage and control its operations, which further improves productivity.
In April 2022, Eekifoods raised $6.5 million in a Series A round led by General Catalyst with participation from Avaana Capital and Better Capital.
---
Euler Motors
Founder: Saurav Kumar
Euler Motors is an electric vehicle manufacturing startup that offers commercial mobility solutions. The Delhi-based company has developed a commercial three-wheeler EV, established its own charging network, and also has a mobile app that let users monitor their vehicles.
The company launched its first cargo three-wheeler model in 2021 which has a payload capacity of 688 kg and a driving range of 170 km.
In October 2022, the company raised $60 million in a Series C funding round led by GIC Singapore, which is in addition to over $20 million it raised in earlier rounds. The company wants to expand to multiple Indian cities and ramp up its manufacturing capacity.
The year also proved to be highly rewarding for the company as it was selected as the winner of the Apollo Awards, 2022, and also the winner of Businessworld's Auto World 40 Under 40.
---
Neeman's Shoes
Founders: Taranjeet Singh Chhabra and Amar Preet Singh
Neeman's Shoes is a startup that makes footwear using natural and renewable fabric that include recycled PET bottle and recycled tire. Among the natural fabrics that are used in Neeman's Shoes are lyocell fibers and Australian merino wool.
The Hyderabad-based company has brought sustainability to the forefront of the footwear segment, which is traditionally not considered very environmentally friendly as it is common to see footwear made with synthetic fibers and animal leather.
Neeman's product line includes sneakers, joggers, loafers, slip-on, and slippers.
Even for the shoe insoles, Neeman's Shoes uses plant-based oils like castor bean oil instead of petroleum-based oil. The D2C company also dispatches its products in packaging made with recycled paper.
In June 2022, Neeman's raised about $5 million in a Series B round led by existing investor Sixth Sense Ventures.
---
Sea6 Energy
Founders: Nelson Vadassery, Shrikumar Suryanarayan, Sowmya Balendiran, Sri Sailaja Nori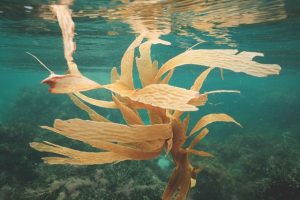 Sea6 Energy is an ocean-farming startup that is engaged in the production and processing of tropical red seaweed. The company is one of the very players not only in India but also globally that is leveraging the power of seaweed.
The ocean crop has emerged as a sustainable solution for a variety of applications. Seaweed can be used in animal feed, to make biofuels, and bioplastics, or as an ingredient in the food industry, and cosmetics.
Sea6 Energy has introduced solutions that automate the farming and harvesting of seaweed. The mechanization not only makes the process efficient over labor-intensive techniques but also makes it possible for large-scale seaweed production, which can further reduces costs.
The Bengaluru-based firm was founded on the campus of IIT Madras in 2010. The company has come a long way since then, it has research facilities and production sites in India and Indonesia. The company makes various seaweed products like animal feed, biofuels, and bioplastics.
In August 2022, the company raised $18.5 million in Series B funding from BASF Venture Capital GmbH, the corporate venture company of BASF SE, Germany, and Aqua-Spark, a Dutch investment fund focusing on the global aquaculture industry.
---
Shaka Harry
Founders: Anand Nagarajan, Sandeep Devgan, Hemalatha Srinivasan, Ruth Renita, and Anoop Haridasan
Shaka Harry is a plant-based food company that offers alternate meat products. The company offers items like nuggets, burger patties, fries, momos, samosas, and keema that are made with plant-based ingredients.
In July 2022, the company received funding of $2 million in a seed round led by Better Bite Ventures, Blue Horizon, and a few other investors. Better Bite Ventures is a dedicated early-stage investor in alt protein startups in the Asia Pacific.
The Bengaluru-based company received another shot in the arm when former India captain Mahendra Singh Dhoni became an investor in Oct 2022. The mock meat segment is the flavor for Indian cricket captains, as, before Dhoni, Virat Kohli had made an investment in Mumbai-based BlueTribe. These investments highlight the growing adaption of plant-based meat companies in India.
Shaka Harry mainly sells its products through online and e-commerce channels, however, in December 2022, it became the first plant-based meat brand to open an outlet at Bengaluru airport.
Shumee
Founder: Meeta Sharma Gupta
Shumee is a Bengaluru-based toy company that makes eco-friendly toys for children up to the age of 7. Starting in 2016, Shumee has a huge collection of toys, catering to infants, toddlers, and preschoolers.
Founded by a mother of two kids, Shumee toys are made with natural wood and cotton and use non-toxic paints and beeswax or almond oil for polishing. In addition to sustainability, the toys also help children develop their creative and imaginative abilities.
Indian film actress and Goodwill Ambassador UNEP, Dia Mirza, who is an investor in the startup, celebrated her birthday this year by introducing Shumee toys that are co-created by her.
The sustainable toy startup also found mentioned in the monthly radio program 'Mann Ki Baat'. In the address made in July 2022, Indian PM Narendra Modi highlighted the growing toy industry in India and the role that manufacturers like Shumee plays.
Apart from its online presence in multiple marketplaces, Shumee also has a physical store in Bengaluru.
---
SolarSquare
Founders: Neeraj Subhash Jain, Nikhil Satejlal Nahar, and Shreya Mishra
SolarSquare is a solar solution provider to homeowners, residential societies, and commercial buildings. The company designs, install, finance, and service rooftop solar for commercial and residential needs.
Founded in 2015, the startup started as a commercial rooftop solar provider and in 2020 decided to venture into the residential segment. SolarSquare provides modular prefabricated solar designs that considerably reduce the installation time for residential use.
The company raised $12 million as part of its Series A funding round led by Elevation Capital and US-based climate-focused fund, Lowercarbon Capital in November 2022. This funding came within four months after it raised $4 Mn in a seed round led by Good Capital.
The Kabadiwala
Founders: Anurag Asati and Kavindra Raghuwanshi
The Kabadiwala is a recycling company that helps individuals and corporates dispose of their waste. Individuals can sell their household junk like newspapers, books, plastic items, e-waste, metal scraps, old vehicles, etc while corporates can fulfill their EPR responsibilities.
Founded in 2014, the startup effectively uses technology to run its operations in multiple cities in India, including Bhopal, Indore, Nagpur, Gwalior, Raipur, and Lucknow. The user can schedule a pickup on their app and a team from the startup will come to pick up the waste for recycling.
In November 2022, the Bhopal-based company received funding of $2 million from Roots Ventures and has now set its sights on expanding to other big Indian cities.
The Kabadiwala was also among the winners of the Swachhata Startup Challenge 2022, launched by the Ministry of Housing and Urban Affairs (MoHUA) and Agence Francaise de Developpement (AFD).
Zerocircle
Founder: Neha Jain
Mumbai-based Zerocircle is making biodegradable packaging materials that can dissolve in the soil or ocean after use. Plastic pollution is one of the biggest environmental nightmares in modern times, causing significant problems to air, water, and land, and also impacting the health of humans and biodiversity.
Founded by Neha Jain, Zerocircle is working to eliminate plastic waste by creating alternatives to single-use plastic from seaweed. After working in the technology sector for more than a decade, Neha launched Zerocircle in July 2020.
Zerocircle biopolymer can be used for packing and storing food, clothes, and consumer goods. The startup has signed up with large CPG companies to manufacture industrial packaging materials using seaweed. Zerocircle sources its seaweed from farming communities in the Indian coastal states, of Gujarat, Maharashtra, and Tamil Nadu.

When we spoke to Neha and asked the reason why Zerocircle decided to use Seaweed instead of any other agricultural resource, this is what Neha had to say,
"Agriculture products are great because they are bio-based, but they require a lot of resources. Corn and Soy are exploitative in the way they are commercially produced. The question is do you want to use food to make plastic alternatives, as that will bring other problems of sustainability and food security?"
In 2022, Zerocircle was among the 8 companies selected as finalists of the Tom Ford plastic innovation prize, a global competition focused on encouraging biologically degradable alternatives to single-use plastic bags.
Wrapping Up
Whether it is cutting vehicular emissions through sustainable mobility, providing alternative food systems through plant-based meat and innovative Agri solutions, harnessing renewable energy sources, or creating sustainable lifestyle products, Indian startups have demonstrated their capability.
Now it is up to consumers, industry, and policymakers to give them space and platform such that we collectively create a sustainable planet.
Selection Methodology
The thought process that went behind the selection of these 11 environmental startups
As you can imagine, making the selection of 11 Indian Green Startups working for the climate is extremely challenging. The scale at which Indian entrepreneurs have responded to the global climate crisis is extraordinary and the sheer number of startups in the field makes it difficult to pick 11 of them.
The main criteria were to make the list exhaustive and cover startups from various sectors.
Like last year, we did not want to overpopulate the list with startups from one particular sector. As we understand, sustainable mobility is one sector that has emerged as the key driver for our fight against climate change. That means the number of electric vehicle startups and EV-related startups is also high. This is true not just in India, but across the globe. As per our research, there are more than 500 EV-related startups in India of which the majority of them have started in the last 5 years. In addition, the funding requirement for EV companies is also higher compared to a few other green companies, which makes them grab more news headlines. To counter this, we decided to pick only 1 EV Indian startup from the manufacturing space and another one from the EV-related area.
Similarly, startups in alternate meat, recycling, and renewable energy are gaining in numbers, attention, and funding, but we selected only one from each of them.
We also looked at some of the major publically available accomplishments like funding and awards that these companies earned this year.
Finally, we analyzed the companies in terms of long-term future potential and growth prospects.
---
Follow us on our Social Media channels for more such stories, videos, environment-friendly ideas, and much more.
Do your bit
Fighting Climate Change is not just for activists and environmentalists.
We all have a role to play. We all can make a difference.