We all know, what we have done to our cities – rapid urbanization has depleted the cities of natural resources. In addition, pollution from factories & vehicles is making the environment even more contaminated.
21 of the world's 30 cities with the worst air pollution are in India, according to the 2019 World Air Quality Report
6 of the world's 10 most polluted cities are in India.
Air pollution kills 1.25 million people in India every year.
One of the significant decisions taken by the Indian Government on World Environment Day is a plan to implement the Nagar van – Urban Forests in India.
The scheme provides to develop 200 urban forests in India over the next 5 years. A minimum of 20 hectares of land will be earmarked for the forests in the city.
If the scheme is implemented in the true spirit, it will surely bring great relief to people and society. The urban forests in the Indian cities can effectively absorb pollutants & carbon dioxide and, release oxygen into the air – making our cities more breathable.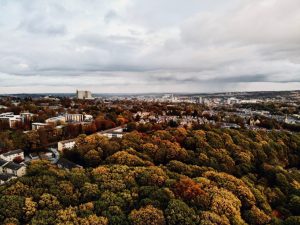 The proposed plan is to be implemented in close collaboration with local citizens and government authorities like the Forest Department, Municipal bodies, NGOs, Corporates involved in this sector.
The World Environment Day 2020 theme is – Celebrating Biodiversity. Urban areas generally have gardens & parks but rarely forests, this new scheme of having urban forests in India will not only become an attraction for the local residents but will also replenish biodiversity.
Speaking on the occasion, the current Indian Environment Minister Prakash Javadekar alluded to India occupying 8 percent of the world's biodiversity, despite having many constraints like only 2.5 % of the world's landmass. The country has to carry 16% of the human as well as cattle population and has only 4% of freshwater sources.
The minister also reflected on the Indian culture, India is probably the only country where trees are worshipped, where animals, birds, and reptiles are worshipped and this is the respect Indian society places for the environment.
Nature protects those who protect Nature
The event also saw virtual participation from Executive Director, United Nations Convention to Combat Desertification, Mr. Ibrahim Thiaw, he also made a pertinent point, 'Is it not time, that we realize that we need nature more than nature needs us, if at all. Is it not time, that we have the humility to rethink and redefine our relationship with nature. Perhaps, it is time for humanity to have a new social contract for nature.'
Conclusion
It is a welcome step from the Government which should be lauded. The plan looks good on paper, but a few questions that need to be addressed are –
Land availability – Given the paucity of land especially in urban settings, finding an accessible piece of land will be a big challenge for government bodies.
Making the piece of land conducive to flora and fauna, each land has its own typical soil quality. It will be important to either plant trees which are local to the region or adopt techniques like Miyawaki which provide efficient ways to grow forests in the least possible time.
Water shortages are a common occurrence in many big cities in India. Taps running out of water in urban households, and people lining up for a community water supply is a usual sights. The situation becomes severe in the summer months (March to June). Amidst this, where will the government get the water for watering the plants & trees – Rainwater harvesting, wastewater recycling, and the creation of small lakes & ponds should also be included as part of the scheme.
Apart from creating forests as part of this scheme, local municipalities also should leverage any vacant city spots – like road dividers, flyovers & metro train pillars, the concrete parks need to be converted into places that have plants & trees, massive spaces near government buildings should also be used for flora & fauna.
Create more awareness for society on the benefits of environment-friendly practices, in recent times, urban residents prefer to put concrete around any vacant place inside or outside their homes -rather than using the space for trees. Hence education is also required, which encourages people to live in harmony with nature.
Finally, efficient collaboration between like-minded people, students, civil society & authorities together will help this scheme achieve its objective.
Let's unite for the successful execution of the scheme and be prepared to participate whenever there is a need.