In a report published by ORF in February 2023, India ranks first among all G20 members regarding overall climate performance. As you would know, the G20 is a group of the world's most developed economies and emerging ones, which together account for more than 80 percent of the global GDP. A number one ranking in terms of climate performance among the major global economies speaks volumes about India's green progress.
One reason why the country has also done well is because of some serious climate policy initiatives over the last few years. We wrote about the Budget presented in 2022 as a watershed in terms of policy initiatives taken around energy transition, climate action, and green growth. The Budget presented in 2023 takes it forward.
Climate Policy by India
From the Indian government's perspective, there are three main pillars on which policy action has been taken on climate:
Increase the production of renewable energy
Reduce the use of fossil fuels in the economy
A transition towards a gas-based economy in the country
A slew of budgetary reforms has been made over the past few years toward achieving green growth in the Indian economy. Budgetary allocation and policy measures around ethanol blending, incentives for solar manufacturing, rooftop solar scheme, coal gasification, vehicle scrapping policy, and battery storage, among others, have been made.
In the Budget 2023, announcements were made for Gobardhan Yojna for villages, vehicle scrapping policy for cities, Green Hydrogen, and wetland conservation.
Under the National Green Hydrogen Mission, India has set a target of production of 5 MMT of green hydrogen and an allocation of more than US$ 2 billion (Rs 19,700 crores) has been made to incentivize the private sector in this field. The government wants to see investments going into electrolyzer manufacturing, green steel manufacturing, and long-haul fuel cells, which is important from a green hydrogen perspective.
The Gobar-Dhan Yojana is a significant component of India's biofuel strategy. Gobar which is cow dung has immense potential in uplifting the rural economy, considering cattle ownership by people in villages for dairy and farm use. As per estimates, India has the potential of producing 10 thousand million cubic meters of biogas from Gobar (cow dung), and a portion of this gas can contribute to gas distribution in urban areas. The government plans to set up 500 new Gobar-Dhan plants under this scheme, with an outlay of more than US$ 1 billion (Rs 10,000 crores).
The vehicle scrappage policy is another important measure taken to reduce air pollution and promote a circular economy. In 2021, the government of India formally launched this policy. In budget 2023, provisions are made to scrap 0.3 million vehicles owned by Central and State governments that are older than 15 years including police vehicles, ambulances, and buses.
In addition, the government also envisages increasing its battery storage capacity to 125 gigawatt hours in the next 6-7 years, growing water-based transport, and creating more green jobs.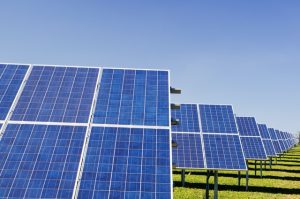 Climate Action on the ground
While one may argue that making big announcements is only part of the solution, the real implementation is what counts. The government to its credit has delivered on many of its promises.
In CoP 21 in Paris in the year 2015, India pledged to have 40 percent of its power generation capacity coming from non-fossil sources by 2030 and achieved this milestone in November 2021, 9 years in advance.
In January 2023, India's nonfossil capacity is 177 gigawatts out of that 68 gigawatts come from nuclear and the remaining is from solar, wind, hydro, and biomass.
In 2018, India launched a 'National Policy on Biofuels' and envisaged a target of 20% ethanol blending in petrol by the year 2030. However, due to various interventions made by the Government since 2014, the target of 20% ethanol blending was advanced from 2030 to 2025-26.
Considering India's dependencies on energy imports, where India spent US$ 120 billion on the import of crude oil in 2021-22. These accomplishments will go a long way in reducing its energy bills and lowering its carbon footprint.
Furthermore, the country is also running the world's largest LED program which has resulted already in a reduction of CO2 emissions by almost about 100 million tons.
Wrapping Up
In 2021, at Glasgow Climate Summit, the Indian Prime Minister committed to reducing cumulative net carbon emissions by 1 billion by 2030 and has set a target to become net zero by 2070.
In addition, as per nationally determined contributions (NDCs) given officially under the United Nations Framework Convention of Climate Change (UNFCC), India has committed to having 50 percent of our power generation will be the non-fossil and a total capacity of 500 GW by 2030.
As per estimates, India's total power capacity is expected to be 820 gigawatts in 2030. This means the non-fossil power generation capacity required is 410 gigawatts, so in the next seven years, India has to increase the nonfossil share from 177 GW to 410 GW. However, the commitment is to go for 500 GW.
As you can see there are many permutations and combinations that will come into play as India strives for green growth just in terms of the energy mix. If we add other components of climate actions, things will be even more complex.
While the challenges for India's green growth remain, these policy actions have not only set the ball rolling for the Indian economy but have also set the precedent for other major economies of the world. The fight against climate change is not for one country but a collective responsibility.