On 18 March 2021, India's Minister for Road Transport and Highways Nitin Gadkari revealed that India has 5 million Light Motor Vehicles (LMV) older than 20 years and 3.4 million LMVs older than 15 years.
This means that these 8 million old vehicles are likely to emit harmful greenhouse gases to already heavily polluted Indian cities.
The high number of old vehicles on the Indian roads is largely due to the fact that India has witnessed phenomenal growth in the automobile sector in the last few years. The sector is expected to be the world's third-largest automotive market in terms of volume by 2026.
Though India's automobile sector provided a tremendous boost to manufacturing in India, it also created problems like a rise in vehicular pollution and unorganized waste management.
On 13th August 2021, Indian Prime Minister Narendra Modi formally announced Vehicle Scrappage Policy, which has the potential to be a gamechanger in India's fight against air pollution and transition towards cleaner mobility. Interestingly, as part of the announcement the Twitter post had a "circular economy" hashtag.
Features of India's new Vehicle Scrapping Policy
India's Vehicle Scrappage Policy will provide a mechanism to retire vehicles that are no longer fit to be driven on roads and are polluting and have lower fuel efficiency.
There is a slew of measures that have been intended as part of this scrappage policy:
Automated fitness testing centers
The policy envisages augmenting investments towards setting up state-of-the-art automated fitness testing centers. The facilities will check the roadworthiness of vehicles and will be built on a public-private partnership model.
Incentivization of the Vehicle Owners
The scrappage policy intends to incentivize owners of old vehicles through seamless de-registration of scrapped vehicles and provide a certificate of deposit. This certificate can be redeemed for buying new vehicles and the customer will get a reduction in their registration fees and road tax.
In addition, industry bodies like the Society of Indian Automobile Manufacturers (SIAM) have been advised to also allow discounts on new vehicles purchased against scrapped vehicles.
Discouraging use of Old Vehciles on roads
At present, India is sitting on a massive database of registered vehicles. A car registered in the 1950s could be still be registered, the Vehicle Scrappage Policy is a first-of-its-kind institutional mechanism to de-register any vehicle. The policy seeks to increase the re-registration fee for private vehicles older than 15 years and increase the fitness certification fee for commercial vehicles older than 15 years.
States have been advised to levy a 'Green Tax' on older polluting vehicles. Few states like Andhra Pradesh, Telangana, Karnataka, Maharashtra, and Uttar Pradesh have already initiated steps in this direction.
Advantages of India's Vehicle Scrappage Policy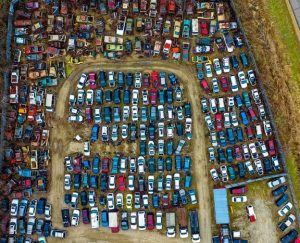 In addition to tackling vehicular pollution, the scrappage Policy policy will promote a circular economy by maximizing the efficiency of resources and sustainable patterns of production and consumption.
Scrapping of old vehciles will generate ferrous and non-ferrous metals like plastic, glass, rubber, textile, etc., which can be recycled. The new vehicle scrapping policy will allow for recycling old vehciles that will reduce junk and create a shift towards the use of renewable resources.
Currently, vehicle scrapping in India is mainly done by local dismantlers and scrap dealers which is a highly labor-intensive, and non-environment-friendly process. The manual efforts fail to extract the full value of steel alloys and precious metals. The new policy will transform the current unorganized market and bring many informal sector workers into the ambit of the formal sector.
India's Vehicle Scrappage policy, by way of retiring older vehicles, will boost the demand for newer automobiles for commuters and increase domestic manufacturing.
In summary, the policy is expected to generate huge employment opportunities directly and indirectly across the value chain.
Vehicle Scrapping Facility in India
In November 2021, Maruti Suzuki, started its first end-of-life-vehicle (ELV) scrapping and recycling unit in Noida, Uttar Pradesh. India's leading car manufacturer has made an investment of Rs 44 crore (~US$6 million) for this facility and will have a capacity to scrap and recycle over 24,000 ELVs annually.
India's other leading automobile manufacturers have also entered the fray, Mahindra & Mahindra has developed vehicle recycling plants under a joint venture with state-owned MSTC. The business-to-business (B2B) company MSTC (formerly Metal Scrap Trade Corporation) enables the auction of goods, mostly scrap.
Tata Motors, which is India's leading four-wheeler electric vehicle manufacturer, has also signed an MoU with the Gujarat government to support setting up a registered vehicle scrapping plant in Ahmedabad.
Wrapping Up
India's Vehicle Scrappage Policy that is adopted on circular economy principles will ensure optimal utilization of the old vehicles and will be a game-changer for the future of mobility in India – one that is environment-conscious, consumer-friendly, and technologically enabled.
Can India become the largest Electric Two-Wheeler Market? Read here.