In 2017, India became the largest manufacturer of two-wheelers in the world overtaking China. Three Indian two-wheeler companies—Hero Motors, Bajaj Auto, and TVS Motors — began their rule in the world motorcycle market.
Bajaj is not only India's biggest exporter of two-wheelers but is one of the most valuable two-wheeler companies. In January 2021, the Pune-based company became the first two-wheeler company in the world to cross a market capitalization of Rs 1 lakh crore.
Many factors make India such a dominating force in the two-wheeler space – large domestic market, extensive focus on R&D, international partnerships, growing economy, and affordability.
India is quintessentially a two-wheeler country, it is the preferred mode of personal mobility for many Indians- constituting 80 percent of vehicle sales. The presence of a young population in the cities and rural areas whose first choice personal vehicle is a motorcycle or a scooter makes it even more lucrative for the 2-Wheeler companies to do well.
Two-wheeler vehicle sales are growing at a phenomenal rate – more than 11 million two-wheelers were sold in India in FY 2011, the figure almost doubled in less than 10 years, reaching 21 million units in FY 2019.
However, one aspect which is not mentioned in the figures is the engine of these vehicles. All these vehicles are petrol-powered.
With the rising air pollution, spiraling fuel prices, and increasing consumer consciousness towards a sustainable lifestyle, the next big frontier in the two-wheelers space is Electric Mobility. For India to remain a leader in the electric two-wheelers market, the country needs to embrace the sector from all levels.
The action has already begun, in 2013, two gentlemen decided to develop a lithium-ion battery pack and later went on to launch India's first smart electric scooter Ather S340 in June 2018.
Interestingly, Hero MotoCorp has invested in Ather Energy and is also now planning to launch its own electric motorcycle in 2022.
Hero Electric, a business completely separate from Hero MotoCorp is India's largest electric scooter company.
Bajaj and TVS have already launched their electric two-wheelers and then there are more than a dozen startups and big international names in the Indian electric two-wheelers market vying for consumer attention.
Can India continue its dominance as the largest electric two-wheeler market, the answer would be yes if the country continues to take some momentous steps in the next 2-3 years.
Factors needed for India to become the largest Electric Two-Wheeler Market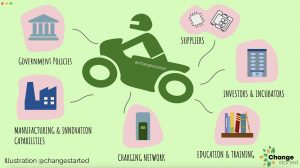 Government Policies:
The Indian government understands the role of the automobile sector in the economy – the sector contributes 7.1% to India's GDP. The majority of this is due to the domestic manufacturing of two-wheelers.
The country is also a signatory to the Paris Climate Agreement – whereby India committed to reduce the emission intensity of its gross domestic product (GHG emissions per unit GDP) by 33% – 35% over 2005 levels by 2030.
By transitioning to electric two-wheelers, India would be able to address both the above factors –
automobile manufacturing can continue to remain a significant force in the Indian economy and
the country can also address the issue of vehicular emissions.
India came out with the Faster Adoption and Manufacturing of Hybrid and Electric Vehicles (FAME) scheme in 2015, to focus on the electric vehicle's ecosystem. The first phase began on 1 April 2015 and went till 31 March 2019, and the second phase (FAME-2) began on 1 April 2019 is extended to 31 March 2024.
Considering the scheme was not giving the desired results, in June 2021, the government made changes to the FAME-2 regulation. Under the revamped FAME II scheme, the subsidy for electric two-wheelers has been increased to Rs 15,000/kWh from Rs 10,000/kWh. At the same time, the cap on incentives has been raised to 40 percent of the price from 20 percent earlier.
In May 2021, the Indian government also launched the Production Linked Incentive (PLI) scheme for manufacturing Advanced Cell Chemistry (ACC) batteries with an outlay of ~US$2.5 billion (Rs 18,100 crore) by 2030. The scheme is expected to reduce the cost of the purchase of electric vehicles (EV), thereby accelerating accessibility.
During COP26, where India committed to achieving net-zero carbon emissions by 2070, the country in collaboration with the UK government, launched an interesting initiative for electric vehicles. Named as e-AMRIT, the portal will be a one-stop shop for creating awareness about electric mobility in India. AMRIT stands for Accelerated e-Mobility Revolution for India's Transportation and is established with an aim to increase the adoption of electric vehicles in India. The e-AMRIT will facilitate in providing insights about electric vehicle technologies, types of electric vehicles, insurance options, and financing options.
Innovation and Manufacturing:
India's dominance in the fuel-based two-wheeler segment was largely due to a strong focus on R&D and building a robust manufacturing process by the top companies. Interestingly, the electric two-wheeler space has started in India with the new-age players and startups taking the lead.
India's ride-hailing startup Ola has taken a huge bet in the Indian electric two-wheeler market space by starting Ola Electric and committing more than $300 million. The company has set up a 500-acre mega-factory that will produce more than 10 million electric vehicles a year from 2022.
In February 2021, Ather Energy opened a new production facility in Tamil Nadu and is looking at a monthly production of around 3,000 units initially from this new plant.
Shared mobility company Bounce also wants to make a dent in the Indian Electric two-wheeler market, they have announced the launch of their own electric scooter.
Both Ather and Ola have been able to scale and expand, because of the massive fundings they have received. Other startups are not that lucky, Tork Motors which was founded in 2009 is still not able to push out any electric two-wheeler. Another startup UltraViolette founded in 2015 and backed by TVS motors is also not able to come out with its planned electric bike.
This indicates that it is not easy for an emerging player to manufacture electric two-wheelers. The startup can bring cutting-edge innovation and agility, but building production & maintenance capabilities is a hard nut to crack.
If India has to emerge as a major player in electric two-wheelers, large traditional OEMs (Hero Motors, Bajaj Auto, and TVS Motors) need to leverage their existing infrastructure and up their game. These two-wheelers behemoths have the experience and resources to not only invest in the electric mobility segment but they would also help to create more public awareness.
It is not that big manufacturers are sitting silent, Hero MotoCorp plans to launch its electric scooter in 2022. TVS Motor, meanwhile, is hiving off its electric mobility business into a separate company.
Supply Chain:
Though both (fuel or electric) are two-wheelers, electric ones require parts that fuel-based auto companies do not use or are completely different – chargers, battery management systems, energy storage elements, automotive health monitoring systems, vehicular telematics, etc.
This makes it difficult for the existing OEMs to cater to the electric two-wheeler market with the same tools.
In 2016, CEAT Tyres launched a new range of tires made exclusively for an electric two-wheeler startup as the traditional tires were unsuitable for electric motorcycles due to differences in torque. CEAT was able to do it because it is one of India's leading & profitable tire manufacturers who have the resources to invest in the potential market, not all suppliers can afford it.
If Indian companies have to succeed, they would need a robust supply chain ecosystem. Hence it is not just about the manufacturers who would need assistance, but the suppliers also need to be supported.
If the supply chain becomes better, the gestation period and prices will come down, which will make India's electric two-wheeler market even more lucrative.
Charging Infrastructure:
Electric vehicles do not need fuel pump stations, rather they need charging points. Thankfully, electric two-wheelers have a relatively lower dependency on charging infrastructure compared with bigger vehicles as two-wheelers have a limited span of commute, and can also adopt battery swapping methods.
Privately funded Ola Electric plans to provide charging solutions to all its future customers. The planned network will be the widest electric two-wheeler charging network in the world, with more than 100,000 charging points across 400 cities.
Many state governments in India have initiated the process to set up charging stations and charging points for electric vehicles in the coming few months.
Preparing the Workforce:
India also needs to prepare its youngsters to take up jobs in the electric vehicles sector through focussed training and education. The industry cannot grow on its own, the electric two-wheeler market will demand new skills, hence training the human resources would be critical for the sector to do well.
In June 2021, India's premier college IIT Delhi launches a PG course in Electric Mobility. The new M.Tech program will teach students some of the key aspects of electric vehicles.
Investors and Incubators:
Developing electric vehicles is not only capital intensive, it requires guidance, mentorship, and help from the industry, hence incubators can play a big role, especially for young startups. Moreover, unlike a tech startup, building electric vehicles is a long-term game, hence the investments will not give immediate returns.
Probably that's the reason, in the last few years, there is a slew of big-league Indian educational institutions joining the sustainable mobility bandwagon and helping the electric two-wheelers market.
Here is a list of 4 Indian electric two-wheeler startups being incubated at top-notch Indian universities.
Wrapping Up
The electric three-wheelers (3W) are already a success story in India providing affordable last-mile connectivity and generating employment. There are more than 2 million electric rickshaws currently running on Indian roads providing affordable point-to-point transport to the working class.
On the other hand, Electric two-wheelers (2W) are is going to be the torchbearer of early-stage electric vehicle adoption in Indian homes, and hence putting a strong focus is extremely critical.
The signs are already evident, the electric two-wheeler market made up 30% of all-electric vehicle registrations in FY21, previously accounting for only 14% of the market (this includes only two-wheelers with speeds greater than or equal to 25 km/hr). Also, the two-wheeler EV market recorded a 60% increase in FY21, from 24,839 units sold in FY20 to 40,837 in FY21.
When combined with other incentives like zero/lowered registration fees, road tax, etc., some of the electric two-wheeler models are already cheaper than popular petrol counterparts in some states. The increase in fuel prices and consequently higher running costs of petrol versions present an additional tailwind for electric variants.
India might have missed the bus on the electric four-wheelers segment, if India can successfully turn its electric two-wheeler story around, the country can become a major electric two-wheeler market.
It would reduce India's oil dependency on other nations and the sector will create many direct job opportunities for the young workforce.
Moreover, switching to electric mobility will provide a clean commute for the people to move within cities in a cost-efficient and environment-friendly manner.
India has a strong pedigree in the two-wheeler space and it would be interesting if it can maintain its leadership in the future world of electric mobility.