There is a famous Hindi song from Movie Yaadein – starring a young Hrithik Roshan, Kareena Kapoor, and Jackie Shroff in lead roles. The song goes like this –
Nagme Hain, Shikve Hain, Kisse Hain, Baate Hain
Baatein Bhool Jaati Hain Yaadein Yaad Aati Hain
Yeh Yaadein Kisi Dil-O-Jaanam Ke
Chale Jaane Ke Baad Aati Hain
This means, the melody, the compliant, the story, the words – While you can forget the words, but memories keep on flowing. The memories become much more prominent after the beloved leaves (dies).
The biggest truth of life is that nothing is permanent in this world and death is inevitable. Having said that, the death of someone who is very precious in your life, someone who you love and hugely care – if that happens it leaves you deeply shattered.
While a few of us would remember by looking at a tombstone, developing a memorial, donating to a charity, naming the house/business, watching videos, scrolling images, or discussing with others in the related circle. Few of us might hang a picture in our homes to remind the present.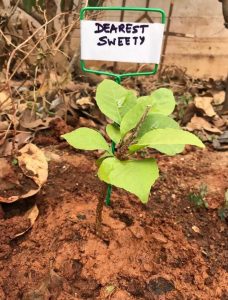 What if we can encapsulate those memories in a little more permanent manner like a plant or a tree? What better way to remember someone who was so close to heart in the form of another living organism ☘️.
So whether it is in the memory of your dog 🐕, cat 🐈, parrot🦜, or any of your loved ones 💖.
This can be extended to any other celebrations or major occasions like birthdays, anniversaries, jobs, marriage, child, promotion, etc etc. Life is a journey and what better way to remember the ups and downs than by planting memory trees.
So if it sounds interesting, that's where Last Ripple comes into play, the company and its young founder Pramodh Chandrashekar can help you and your memory grow in the form of a tree or a plant.
Here is an edited version/excerpts of our conversation with Pramodh, for the full discussion please watch the video.
Tell us about your Journey? What changed in Law School
Everybody is so passionate about starting something during the teenage years. I joined a Law school to build my career and soon started feeling extremely lost in my law school. I couldn't find a business problem to solve and was just struggling to do something.
I wrote in my diary in March 2018 that within 1 year I will start something of my own because unless there are deadlines I don't do.
Unfortunately, I lost my grandma in April of 2018 and I really felt bad for the funeral system in India and especially as there was no logistics or organized structure around the funeral system. Also, the fact that death is considered taboo really started me thinking.
Startup on Death, Seriously?
I started researching a lot about what could be done to make death a positive beginning of a new life. I felt clueless, I was just 18 and I hardly knew anything about entrepreneurship. Shortly afterward I let some of my close friends know about my idea. They were like, Death, seriously? Is that even possible? I wasn't sure but the thought of something on this topic kept lingering in my mind for the next 6 months.
A few months later I stumbled upon this article upon plantation for every death. This was happening in Italy. For the Italian state and certain European countries, they have a ritual of planting a tree to memorialize their loved ones. However, there are strong burial laws that prevent certain states from doing this.
I being a law student, found that there are no laws in India for burial, which was very fascinating for me. I went to a faculty and one of them told me that when he was to die he'd want to be a tree. It made me feel so emotional and motivated me too. And it helped me take that entrepreneurial leap when I was just 19.
The Last Ripple was born
Thereafter, I decided to experiment with the Last Ripple in India. I went to multiple mentors, multiple B-school competitions and nobody thought it could be done and that it was impossible. But, my dream about Last Ripple was very personal to me and I thought I could do something about it.
And that is when, in December 2018, I started Last Ripple.
The journey after that?
The past 18-19 months have been a journey of a lot of bumps, understanding entrepreneurship better, what to and what not to talk about with people, knowing everything from running an organization from scratch. Coming from a law school, not having business acumen, no mentorship, and being the only founder of the company, starting something of this sort was not my cup of tea.
Once, when I pitched Last Ripple to a jury in a b-plan competition, the jury asked me why can't Last Ripple be for pets. That was the beginning of Last Ripple. The conversation with the jury while validating the idea of Last Ripple opened my perspective about what actually was Last Ripple.
The journey over the past few months has been amazing, having met such amazing people who have made me believe in myself and re-think life about Last Ripple.
Right now, we have helped 100s of pet families across multiple countries with Last Ripple plantation kits by making their pets into the beautiful green form of life. In fact today we have shipped one to Delhi and one to Mumbai which is a very proud moment because even in lockdown we are able to help pet parents when they lose something this precious. Its been a beautiful journey of love, hatred, mockery, negative feedback, and positivity.
How does Logistics Work?
We started Last Ripple in India's biggest Pet Hub called Petfete Bangalore. We met numerous pet parents there and asked about what they felt about Last Ripple.
The biggest feedback we received from them was apart from the kits, why can we not assist in the logistics of the funeral system of their pet. I thought why can this not happen. I was the only CEO, founder, helper, cleaner. I thought there is a ray of hope to make this happen.
That one thought helped me start thinking about the logistics. When pet parents have something happening with their pets, they can call it Last Ripple. We connect them to ambulances, logistics and we operate like an aggregator. We are focusing on Bengaluru and Mumbai since these two cities are the pet hub according to Asia Pet Market. We are considering Delhi and Hyderabad thereafter in the pet industry.
I call it an industry because pets have become more than an industry right now. We love them, adore them and it's more than just an industry. For me, I never wanted to talk in numbers but being in this field I need to do it. There came the whole logistical numbers about what can we do and how can we go about it. So we set up volunteers, campus ambassadors, and multiple levels of collaborations for logistics esp in Bangalore and Mumbai to make things happen.
We have pre-booking option available for pet parents who are interested in this during the last days of their pets. They can contact Last Ripple and we then connect to our ambulance drivers, our carcass management team to go to the place and collect the pet body from the doorstep and cremate the body at the crematorium and then back again to the pet parents with a plant at their doorstep which makes them feel so comfortable because they cannot go through this on their own.
I feel that being with them during such a time which is exhausting mentally and physically with the help of our volunteers is important. We have a team of ambulance drivers, we have a team of nurseries, we have a team of college-going kids in Bangalore who help in planting trees. Also, I have a team of amazing volunteers who help with promotions, collaborations, etc. Right now we are a team of 3 who take decisions at the top-level management. We are still figuring things out as we go.
Tell us more about the Plantation Kit, the Urn & the planting mechanism
We have a cylinder, a hollow planting system, made from Bamboo, paper pulp, and three layers inside the cylinder. Firstly we put ash at the bottom. Then, we have our patent-pending planting system which is an integral part of the system called the ash utilizer disc and then we have the pH controlling soil port. We can plant a Bonsai or any plant that you desire to have it as a memory of your pet.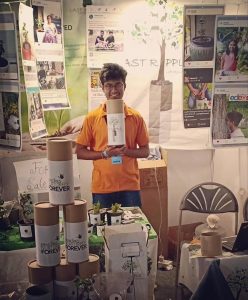 To sum up, we have a planting system, the cylinder called the urn that will act as a facilitator in converting the ashes which will be high in pH and chemical composition – as a plantation medium for the plants.
The objective of this kit is to make the pH of the ash which is 17-18 to come down to 7 or 8. The cylinder is 30 cm long and we are still working on creating a better design for it. The size of the disc changes based on the kind of plant that is to be grown.
Do you help with seeds as well?
We are not focusing on seed because growing the seed is very difficult. We normally offer saplings and bonsais in Bangalore. The major concern for the pet parents is finding a piece of land. We stay in metro cities and the problem is planting a tree in the apartment. And the pet parents do not want to plant a tree 30 km from their home.
There are three ways in which the pet parents can look at Last Ripple –
Reach out to Last Ripple and hand over the pet's remains and the cost will be managed by the pet parents while Last Ripple through its volunteers will manage the pet's tree near the parents' locality.

Pet parents can opt for potted plants like Bonsai, Hibiscus, flowering plants in the balconies because they want to see life growing in front of them. We select the right bonsai and the right sapling to grow for them.

Pet parents can also grow seeds of trees like sapodilla (cheeko), guava, etc.
However, we strongly advise the pet parents to not grow through seeds as there is a chance if it withers apart, they would be shattered. We collaborate with nurseries to bring the best possible options for the pet parents.
What is your personal bond with Trees?
Law school was the changing point in my life. I was an introvert, not knowing what to do in my life. I chose Law and I ended up being lost in law school. And trust me, being lost in law school is miserable, I did not know what to do in the first year of law school.
I come from Christ University which is one of the greenest campuses in South India and used to visit the campus every day for attendance. Whenever I used to feel restless I used to come out of the class and sit next to the trees.
That was my very first true love of nature by sitting next to the trees on my campus and talking to them. I literally used to talk to the trees, name them, water them, and used to hug them. I used to feel their presence. I always grew up with nature, playing sports with my friends in the open ground. Messing up with soil, getting my hands dirty was my love.
But my real love opened up for nature when I was lost in my law school. That made me connect with trees very integrally. And when I came across that article 'Plant a Tree for Every Death', I was like 'Oh my God!', this is my thing. I did not have an idea to build this into an actual organization but it just lined up.
I honestly believe that your idea becomes bigger than you yourself when you love your idea. Because I was looking at an idea that was bigger than what I was. I was this tiny in front of my idea because it was changing the taboo of death across the countries that were never done in the history of India. To make Last Ripple make into something was an idea way bigger than what I was. It made me believe that this is possible.
My nature stories are very crazy – I eat leaves, I eat grass, I eat random things from nature.
I was always a crazy nature lover but Christ University and Law school made me experience my real love for nature making me start Last Ripple. Thus, Law School was my foundation to do everything in life. Law school was my incubation cell. I got a lot of negative feedback which a lot of people do not get in entrepreneurship. I got amazing friends who spoke well about me and amazing friends who criticized me about Last Ripple, people who made me feel that I am worthless while many who made me feel that I am worth enough. My first year of campus life taught me a lot about Last Ripple which made me create it in the first place. It feels wonderful now to reflect and connect all the dots.
The name of your Organisation is very interesting, tell us about it?
It is very funny actually. Everybody's been very keen to know the reason behind the name but it is very silly.
The name just happened like everything else; I think I was the luckiest teenager and with hard work together helped me out. The b-plan event that I spoke about was the one wherein I named the initiative. We were nearing the deadline for submission for the finals and they wanted all the teams to give a team name for the idea and I was like 'Oh My God!'. I did not have a team name. I googled for 4 hours that day for the name of my idea. I googled everything but couldn't find one because this is the first in India and I couldn't be a copycat to copy something from someone. I had no idea what to name, something like whatever.
I googled 'nature' on google images and I came across a mountain image with water rippling from it to the water body close to it. And I thought 'Ripple is so cute'; it was like making some vibes. The graphic image had water rippling from the mountain to the water body ..and the last ripple stopped and I was like why can we not connect death as last and ripple are not only about the ripple itself but the fact it affects something else too. That was the idea of Last Ripple. And Last Ripple became a never-lasting ripple from then onwards.
What were people's reactions after Planting Memory Trees?
The very first testimony happened in the first month of inception which happened through word of mouth. If something can happen that fast then it is incredible. We got it within the first 15 days and I was like 'Oh My God.'
I still remember that the pet parent lived in an apartment and wanted a Hibiscus flowering plant and that too a white one. I was really curious and asked the parent as to why he wanted a white hibiscus flowering plant in particular. He told that his pet Leo was white in color, a lab, and he told that every flower this plant will bloom will come from the pet's heart. So, he connected the blooming of the flower to his pet's heart which was so emotional for me.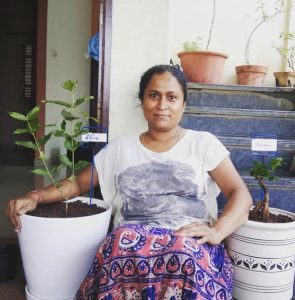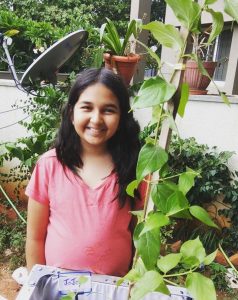 From then onwards, every testimony was so special. For me, a random pet parent smiling and hugging me while saying that I am amazing for them is a new form of their pet love. Every pet parent has his/her own love for the plant. In fact, some pet parents named the plant after their family's name. There was a pet parent in Bangalore who had named their dog after their family's name. Some pet parents pour milk into their plants saying that is what they fed their dog.
Every time I listen to these stories I feel so humbled that I am making some impact on their lives.
How many memory tree plants Last Ripple has supported?
We have helped with 100+ pet parents across Bangalore, Mumbai, and Delhi as of now i.e 100+ plantations. However, we have planted over 1 lakh trees across the country with multiple NGOs partnering with Last Ripple. We are proud to say that we have helped Bangalore to become a bit greener in these two years of our existence.
What are your future plans and how do you plan to take this ahead?
I want to make Bangalore a garden city rather than a silicon valley. I still remember going to a huge auditorium with 1000s of people from Bangalore and I asked this one question – Have you ever watered a tree in a public park? Or a Road? Or a Highway? In Bangalore? And only 6-7 people raised their hands out of 1000s of people. That showed that they do not connect with Nature.
Because of Last Ripple, we made sure that people's emotions are connected with nature. So I wanted to make a memory forest in every metro city in the country and followed by every major city in the world. A memory forest is something filled with your memories instead of graveyards filled with tombstones. Imagine a graveyard without tombstones but filled with trees;
We want Last Ripple to be a mission-oriented organization rather than a money-oriented one. Money flows in no matter what. We aspire to create memory forests filled with green forms of life. And to reach this goal we need funds and collaboration and still, we do not want to take the heap of investments.
For now, we are self-funded and we are having a viable model and we believe we can sustain it for the next couple of years. Right now I am hustling with law school, entrepreneurship, family time, friends. I do not want another investor to complicate stuff. Hence, right now we are satisfied with our organic growth but definitely, we will look for more collaborations in the coming future.
Let us wish Pramodh a great success and his start-up Last Ripple leave lasting memories for U & Me and next time if you have an occasion please go and plant a memory tree.
Here is the complete video of the conversation.