I bet each of us who's reading this, at some point in time, must have thought of our life's purpose. I have spoken to numerous people understanding their purpose and have come across different answers spread across the spectrum: from knowing since as long back as their memory takes and still many who are still searching for one.
And it is with this intent that I write about Padma Shree Awardee Saalumarada Thimakka who has lived all her life knowing her life's goal and has worked relentlessly for decades towards it.
There is a famous Japan's Island Okinawa, which is known for people living a long life, with many people going beyond 100 years. One of the reasons for their longevity is their connection with nature. This is elucidated in great detail in an international bestseller book Ikagai.
Saalumarada Thimakka's age is more than 100 years but her passion for nature and the environment is beyond just words. If Japan has Okinawa, India has Saalumarada Thimakka.
We bring to you through the lens of The ChangeBlazers, a series of life-changing stories aimed at 'Me and You' from people bringing in a positive change every day, the story of grit and determination, one that will surely leave you inspired and hopeful of a better future.
Early Life and Background
Saalumarada Thimmakka was born in Gubbi Taluk, Tumukuru District in Karnataka, and worked as a laborer and did not get any formal education. She was married to Chikkaiah, a native of Hulikal village in the Magadi taluk of Ramanagar district in Karnataka but the couple could not conceive even after 25 years of their marriage. Instead of cursing their life or fate, the couple tried to fill the loneliness by planting and tending banyan trees as their own children. She lost her husband in 1991, but the tragedy could not deviate her from the selfless work. Lately, she adopted a son named Umesh.
Awards & Work
It is said that Thimmakka began to plant banyan trees in place of kids. She and her great afforestation project remained unknown until she received the National Citizens Award in 1996. She is popularly known as the mother of trees or 'Vriksha Mathe', was awarded the country's fourth-highest civilian award for her tireless effort to make the planet green.
For her achievements, she was awarded many prestigious awards, like Nadoja Award, Karnataka Kalpavalli Award, Godfrey Phillip Award, and Vishwathama Award, and many more. Thimmakka has also been listed in BBC's most influential & inspirational 100 women.
The Padma Shri 'Blessing'
In 2019 Thimmakka, who has earned the sobriquet of 'Vriksha Mathe' (Trees Mother) for planting thousands of trees in Karnataka, received the Padma Shri Award from the President of India, Ram Nath Kovind. As the President, 33 years younger than Thimmakka, asked her to look at the camera, the centenarian touched his forehead to bless him. Her innocuous move brought a smile to the faces of the President, Prime Minister, and all the guests who burst into rapturous applause for her.
After receiving her award, she planted a sapling at the Rashtrapati Bhavan.
Thimmakka is an environmentalist from Karnataka, and popularly recognized for planting and tending to 385 banyan trees along a four-kilometer highway stretch between Hulikal and Kudoor village near her husband's hometown in Tumakuru district. Thimmakka has also played a crucial role in constructing a water tank to store rainwater in her village. She dreams of constructing a hospital.
For planting 8000 trees in 80 years, she became the oldest person to achieve a position and feature on the list. She lives a normal life, but she is not an ordinary woman. She planted and nurtured 384 banyan trees lined in a 5-km stretch nearly 80km from Bangalore.
Saalumarada Thimmakka says that though her home is flooded with certificates, cups, garlands, and fame, she still lives in poverty. She says people and organizations honor her with various awards but nobody gives her money.
Saalumarada Thimmakka represents the resilience and determination and perseverance of ordinary women in our country. May her example, and that of each Padma awardee, inspire our India to greater heights.
Saalumarada Thimmakka's Story is Of Grit And Determination
She reportedly wanted to commit suicide in her 40s as she could not conceive, but she found solace in planting trees with the support of her husband. The couple arduously worked in the fields during the day, planted trees, and cared for them. From 10 plants in the first year, they kept planting more saplings in the later years. Sometimes also bringing water from over 4 kilometers for their plants.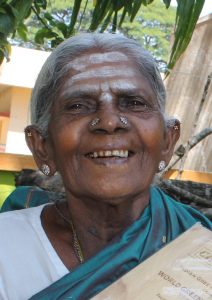 It is indeed an overwhelming moment for me to share about the legend Thimmakka's who has marked her presence in society through her noble deeds. Her contribution to society is remarkable.
Remember just like human beings, plants/trees also have a life, and they need to be cared for and nurtured-but that's lacking these days. If our ancestors could live without the use of plastics why can't we? These days plastic use is increasing, and people litter them everywhere.
Use plastic to the limit, and dispose of them wisely. Also plant 4-5 trees a year in your area, so that everyone gets a chance to breathe clean air, and also have a green atmosphere. We need to follow in the footsteps of Saalumarada Thimmakka who without any education has brought a change in making society clean and green.
We these days can't live without mobiles, we would rather spend money on recharging to watch the net, but we would not buy a few plants and plant them in our area. It's time now that we all make a change at a young age, for a clean and green environment.
Take a pledge that you will at least plant 4-5 saplings every year and supports Thimmakka 'Go Green' movement," and see that your environment is clean and green.
We hope Saalumarada Thimmakka's story inspires you to try to do your bit for Mother Earth. Tell us what you would like to do for our planet earth and become progressive as she did…