Most of us recognize the importance of planting a tree(s), but our hands rather than legs are tied with limited reach.
Most of us would probably do it in our gardens or neighborhood parks.
There are a few who join hands with like-minded people and form voluntary tree plantation organizations like SayTrees while a few go the extra mile and do it all by themselves, like Padma Shree Awardee Saalumarada Thimakka.
Then there are those who want to touch the sky to plant trees. Yes, you heard it right, reach the sky, to plant trees – Put it simply, humans are using Drones to plant trees.
What are Drones? If you know it, skip this
For the uninitiated, Drones are unmanned aerial vehicles (UAV), they are like small helicopters which can be flown by a person standing on the ground using a remote. The person flying the Drone is also known as the Pilot.
What are the typical uses of Drone?
Events and Gatherings – Taking aerial video shots for movies, sports events, music concerts, personal occasions, and other events that have mass gatherings.
Personal and Entertainment – There is a big market for toy drones with bright colored LEDs, colors, etc, used by children -more for fun and entertainment. A huge demand also comes from vloggers and travel enthusiasts who shoot aerial shots of their travel journey, adventure, and the place. In this case, the drones are bigger in size, attached with cameras and mobile phone apps to maneuver and operate.
Monitoring and Surveillance – Increasingly government & large corporations have started using drones for surveillance, traffic monitoring, keeping a tab on anti-social elements, inspecting hard-to-reach hazardous places, and even military purposes.
Delivery – The recent pandemic and social distancing norms have propelled the demand for Drones to be used for carrying e-commerce deliveries and food parcels. The drones will lift the package from the source, the tracking system along with the Pilot will guide the drone to its destination and the delivery is done. Recently, a startup from Ireland Manna Aero started a drone delivery service to deliver medicines to sick people locked in their homes.
The security threat and feasibility of flying drones in overcrowded places remain a concern, but at least the ball is set rolling. There are countries that have introduced laws related to Drones and pilots may require a valid license to fly the drone.
The research has predicted that the global drone market to double in the next 5 years, from around $20 billion in 2019-20 to more than $40 billion by 2025. While North America is a major market for drones, but this Asia is fast catching up.
We (all the environment lovers) hope, the new use case whereby we can use Drones to Plant trees, would add a few more extra millions to the market size.
So why are we using Drone to Plant Trees?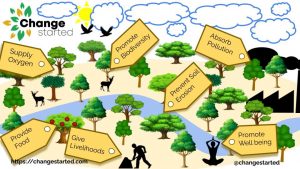 None of us can deny the contribution Trees make in our lives, supplying the oxygen in the atmosphere, absorbing pollutants from the air we breathe, preventing soil erosion, and providing fruits & vegetables, as well as a natural home to biodiversity. In addition, forests provide jobs and livelihoods to thousands of people.
Having said that, it is not easy to plant trees, you would need a lot of manpower to plant trees, as per some estimates a human can plant about 1500 trees a day. Plus there are many inaccessible places like mountains, and river beds, which is not easy for human planters to go, carry, and plant trees.
Climate change, large deforestation, and wildfires make it difficult for environmental agencies and foresters. social groups, tree planters, etc. to reach every nook & corner in the fastest possible time with the available tools. Keeping pace with the destruction of the forests with reforestation methods is difficult.
Drones are the answer
With the ability to fly and drop seeds at places that were difficult to reach earlier, Drone provides an effective solution to the problem at hand. They can map out the territory, carry the seeds, and drop the load at the identified spots, and go back to check the progress at frequent intervals – creating a large-scale green landscape.
What are the factors required for Drone to Plant Trees?
There are multiple things involved in Drone-based tree plantation
Quality and size of the Drone – There are many smaller drones in the market that can be used for video shoots, but lifting objects might not be their cup of seed (~tea). The build of the drone for planting trees should be durable enough to lift the high quantity of seeds.
Ability to map the territory – Drones need to mark the areas suitable for dropping the seeds using machine learning technologies, 3D imaging, etc.
Protecting the Seeds – If a human goes and plants trees, he/she will ensure to bury them in the ground, so as to protect them from animals and being flown away. In the case of drones, it is highly recommended to use a protected nutrient coating that acts as a safe shell.
Are there any companies using Drones to plant trees?
DroneSeed- Seattle-based startup that started in 2016, it provides drones to solve deforestation problems by working with nursery managers, foresters, timber companies, etc. Each drone can drop seeds on approximately three-fourths acre of land in a single flight.
Flash Forest – Drones from the Canadian startup first map the area of the planting location, and identify the suitable spot based on the soil & existing green cover. Next, drones can drop specially designed seeds into the defined areas. Currently, the company has the capacity to plant 10K to 20K seed pods a day. The company started in 2019 has done plantation drives in Hawaii and has plans to plant 1 billion trees by 2028.
Dronecoria – This Spain-based start-up not only utilizes drones to plant trees but has created an open-source set of tools for large-scale, low-cost reforestation through aerial sowing of seed balls. The platform includes automated seed processing and drone-powered replanting. Dronecoria started in 2017 after many initial trials, successes & failures, now want to standardize the method of reforestation, develop the machines, and document the methodology to make it globally available.
Is there any action on the ground?
Umm Al Quwain, UAE
In Feb 2020, the government of UAE kickstarted a Drone project to plant mangroves on the UAE coastlines.
Mangroves are great for biodiversity, marine life, and purifying the air quality.
Toronto, Canada
In May 2020, on land which was previously burned in a wildfire, Drones are firing seeds from the sky, helping the region replenish its greenery and pine trees.
The project doesn't end after dropping the seeds, the start-up Flash Forest which is facilitating this initiative will go back to track the progress on a regular basis.
Aravali mountain range, India
In Aug 2020, the Indian government took a Drone-based pilot project to plant trees for the Aravali mountain range. The proposed plan is to leverage and Drone to detect soil quality, evaluate land, and rainfall status, and choose which species to plant in the targeted zone.
The region starts from the outskirts of Delhi, running approximately 692 km in a southwest direction, passing through 4 Indian states.
Finals Words
Forests still cover about 30 percent of the world's land area, but they are disappearing at an alarming rate. Between 1990 and 2016, the world lost 502,000 square miles (1.3 million square kilometers) of forest, according to the World Bank — an area larger than South Africa. Since humans started cutting down forests, 46 percent of trees have been felled, according to a 2015 study in the journal Nature. About 17 percent of the Amazonian rainforest has been destroyed over the past 50 years, and losses recently have been on the rise. — National Geographic
Given the ferocity of the devastation, we need hundreds of companies, individuals, and groups to come forward, leverage the technology, take these aerial vehicles to the sky and – make the planet green again.
Photo Unsplash