If you ever visit Pokhra, Nepal's second-largest city and famous for the Annapurna mountains, chances are that you would invariably stroll down its bustling market near Phewa Lake to either pick a souvenir or knick-nacks or to enjoy the city nightlife.
Nestled in this busy shopping street is a small shop that goes with the name 'Rhitu Saugat – Authentic Nepali Products – by Rural Entrepreneurs'.
While you may ask what is so special about this place – couple of things, one is the Hemp products and other eco-friendly products, and second and more special is the effervescent owner of the shop, Suntipurja Hyen.
Hemp products
Let us first describe the first one, colorful products made with Hemp fiber and stinging nettle fiber line up this shop. From backpacks to laptop sleeves, from clutches to handbags, from sling bags to wallets, from shirts to fashion accessories, this shop has a range of sustainable products.
Some hemp products are manufactured by Suntipurja and her team in a small workshop located nearby, while other products, she buys from other rural craftswomen and markets in her shop.
Hemp has been cultivated for thousands of years in many parts of the world and was also regularly used in the textile industry. However, due to various factors, including fast fashion, polyesters, etc, the fabric lost its significance.
In recent times, Hemp has emerged as a sustainable fabric choice for environmentally conscious consumers. You can read more about Hemp fabric here and here.
Similar to Hemp, stinging nettle is a plant, with hair-like structures that sting and also produce itching if touched, that's the reason for its name. Nettle is the fibers that are extracted from the dried Stinging nettle.
In many places in Nepal and the surrounding Himalayan region, Hemp and Stinging Needle plants are cultivated. Both hemp and nettle undergo a series of processes before the natural fibers are extracted and used – bark from the plants is collected, dried, washed, boiled, treated, prepared, and woven into the bio-degradable products.
The effervescent Owner – Suntipurja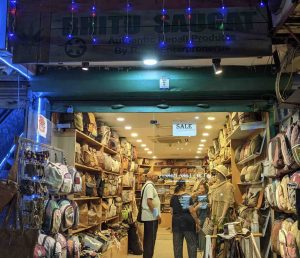 As soon as we entered this shop, we are greeted by vivacious and ever-smiling Sunti, who is also the owner of the shop. Seeing our enthusiasm toward Hemp products, Sunti began speaking to us about how she came about this shop.
She established the shop in 2010 with the support of the Micro Entrepreneur Development Programme (MEDEP). MDEP is a joint initiative by the Government of Nepal and the United Nations Development Programme (UNDP). The objective of MDEP is poverty alleviation by providing training and financial assistance to Nepali people, who have little to no education to build their own small businesses.
She explained the meaning of the shop and brand name, Rhitu is the name of her daughter, and Saugat means gift. In between, she also did a small ramp walk holding a couple of handbags to demonstrate its looks and features.
We discussed the manufacturing process, her factory and its workers, her initial struggles, and the hard times she face during the Covid. Sunti also mentioned the financial support she is giving three other children from extremely poor families.
Slowly our talk meandered about her personal life, she joyfully recounted her time spent in India as her father was serving in the Indian Army.
Then for a few seconds, the smile faded when she mentioned the martyrdom of her husband when she was just 16 years old. Her husband was part of the Gorkha Regiment and lost his life during the Kargil War.
Post this somber revelation and after noticing our moist eyes, Suntipurja quickly changed the subject, and with a smile back again, she went behind the counter to secure the billing and pack the products which we bought.
Paying our obeisance to the departed soldier and our respect for Sunti and her work increasing manifold, we parted by hugging each other.
For those who don't know about Pokhra, the city is a destination that is popular with trekkers who go for the Annapurna circuit trek. Adventure seekers can also try paragliding, bungee jumping, and ziplining, among other extreme sports. The scenic Pokhara Valley is also popular with tourists who come here to witness the Himalayan range, do boat rides in Phewa lake, and visit Hindu and Buddhist temples.
You can read a detailed article on Pokhra and why it is one of the best eco-friendly destinations.