Clothing is an important part of our lives but the way it is made, including the raw materials, chemicals, and fabrics, contribute to environmental degradation. The fashion industry especially in the era of fast fashion adds a significant amount to the world's carbon footprint.
India is one of the top global hubs of manufacturing fast fashion garments and is therefore not far behind in terms of its contribution to greenhouse emissions and aggravating the climate crisis. In addition to the exports, India's domestic demand for apparel and clothes has also risen steeply in the last few decades, leading to more pollution.
From logistics & shipping emissions to excessive water usage, from plastic to clothes waste, the Indian fashion industry is impacting many areas of the environment.
Hence, consumers must look at their fashion choices and the garments they buy. Sustainable or slow fashion encourages the use of fabrics that is biodegradable and don't have major adverse effects on the environment.
We have listed sustainable fabrics that are comparatively better for your garments in our article on Sustainable fashion, here.
Moreover, it is important that we become conscious of our shopping decisions.
Below is the list of sustainable fashion brands in India that help consumers make fashion choices that are relatively less environmentally damaging.
Ecentric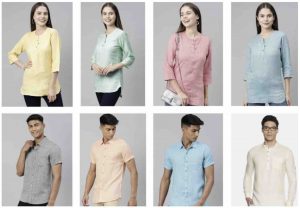 Hemp whose application is limited to being used as a medicine or a recreational drug is in fact a wonder plant that is not only environmentally sustainable but has many varied usages. Industrial hemp is cultivated and is used across personal care products, nutritional supplements, fabrics and textiles, paper, construction materials, food, and beverages.
Hemp is increasingly being used for textiles and home furnishing applications and Bengaluru-based Ecentric is one such Indian sustainable fashion brand that makes hemp garments for both males and females.
We spoke to the founder of Ecentric, Salendara Gupta, and he provided his reasoning for using Hemp in fabrics. "Hemp is a cannabis plant that is a bast fiber like linen or other natural fiber, and its environmental impact is almost 4 times less than cotton. It doesn't require fertilizer or pesticides, and it helps in protecting against soil erosion. I was very intrigued by the environmental impact and the quality of the fabric. It keeps you warm in winter and cools in summer. Then I thought let me take forward this idea by starting this brand using hemp fabric."
Currently, the industrial hemp supply chain in India is limited and hence Ecentric has to source hemp from places like Turkey to meet its demand. Processing, spinning & weaving of the yarn is done by the company in India.
PECKD
PECKD is one of the few sustainable fashion brands in India that makes garments that are completely biodegradable. The Gurgaon-based company uses fabric that is made with fruit & vegetable extracts, buttons made with nuts, and even thread made of compostable yarn.
In our conversation with the co-founder of PECD, Hitesha Deshpande reckons PECKD is a step beyond sustainable and organic. "We not only conserve our natural resources, but we also give back to nature. When we say that you can wear the PECKD garments to the soil, we genuinely mean it. Our clothes take care of the discarding problem, once you are done with the garment, put it into your compost bin."
Author, serial entrepreneur, and animal lover Hitesha started PECKD along with founder Himanshu Kulhari. They started working on their idea in 2018 and launched the first set of PECKD garments in 2020.
Reistor
Mumbai-based Reistor is a sustainable fashion brand that uses hemp to make its garments. The company uses dyes that are free from harmful chemicals. Founded in 2021, Reistor collection includes dresses, jackets, tops, pants, and jumpsuits that are exclusively for women.
Bamboo Tribe
Bamboo Tribe manufactures clothes using bamboo fabric and cotton. Founded by Madhavi Das and Aiyappa Somyanda, the startup products include t-shirts for males and t-shirts, leggings and tops for females.
Bottle&Co
Bottle&Co is a company that makes apparel for both males and females from fibers that are extracted from recycled products (like plastic bottles).
The Delhi-based company's clothes range includes T-shirts that are made from 12 bottles of plastic, Joggers that recycles 20 bottles of plastic, and Hoppers that are made from both recycled plastic and cotton, among others.
B Label (Bombay Hemp Company)
In 2013, seven students of Mumbai-based HR College of Commerce and Economics founded Bombay Hemp Company, to revive the use of hemp.
B Label is a clothing line under Bombay Hemp Company that makes a range of male and females apparels using hemp fibers. The product range includes scarves, stoles, and a variety of ready to wear including shirts and sweaters made using hemp fabric.
One Less
Founded by Hansika Chhabria, One Less makes clothing for men and women using organic cotton and bamboo fabric. The Pune-based company's product line includes t-shirts, cropped t-shirts, shorts, sweatshirts, sweatpants, and other fashion accessories.
One Less is also part of a growing list of Indian brands that plant a tree for every purchase they make.
Beej
Beej is an Indian sustainable fashion brand founded by Arundhati Kumar in 2020. The Mumbai-based brand makes fashion accessories such as handbags, wallets, clutches, and iPad sleeves using plant-based materials, like Pinatex, Desserto, and Cork. (Piñatex is a natural non-woven textile made from the leaves of the pineapple plant, while Desserto is made from the pulp of the Nopal cactus, and Cork is made from the bark of the cork oak tree).
Twirl.Store
Kolkata-based Twirl Store is a sustainable fashion brand in India that picks up your old clothes and makes them useful again. As a result, it prevents the clothes from going to landfills and helps in increasing the life of the garment.
Founded by Sujata Chatterjee in 2017, Twirl Store employs rural women who help in upcycling old clothes. In our conversation with Sujata, we asked what kind of clothes Twirl Store accepts, "We accept anything that is made of fabric, which can be clothes, bedsheets, curtains, tablecloths. Anything which is made of fabric, which you are not using in your homes, we would be glad to take that. The only request is that it should not be completely torn or discolored, because then it is difficult for us to upcycle. Anything which would be in fairly decent condition, we would be happy to take them and give a new life to it."
Want to know more about Hemp fabric, hear the Ecentric founder's story, where he explained the advantages of hemp fabric (timestamp 2:20).
Want to know more about PECKD, listen to the co-founder of the company, Hitesha Deshpande. She explains the thought process behind developing compostable and sustainable fashion brands in India.