October 10, 2021, Reliance New Energy Solar acquired REC Solar Holdings for $771 million.
October 10, 2021, Reliance announced to buy a 40% stake in Sterling & Wilson Solar Ltd, a Shapoorji Pallonji Group (SP Group) company, for about $380 million (Rs 2,845 crores).
October 13, 2021, Reliance New Energy to invest $29 million in NexWafe.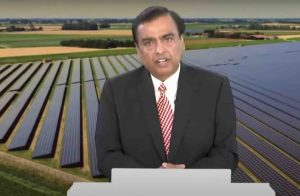 That's about USD 1.2 billion in investments in the clean energy sector in a matter of 3 days.
This is especially significant considering that within a few months of announcing its green ambitions, Reliance has made a slew of investments in the green energy business.
In June 2021, Mukesh Ambani, chairman & MD of Reliance announced plans to invest Rs 75,000 crore ($10 billion) over the next three years in renewable energy, including the setting up of Giga factories in Jamnagar, Gujarat.
A wholly-owned subsidiary of Reliance Industries Ltd was formed, namely, Reliance New Energy Solar Ltd (RNESL) to take care of its green ambitions.
These acquisitions clearly indicate that Reliance's green energy business is on a fast track to achieving its goal of enabling the generation of 100GW of solar energy by 2030.
How will the investments help Reliance's green energy business?
REC Solar Holdings
The 100 percent acquisition of REC Solar Holdings from China National Bluestar, for a whopping USD 771 million is a major investment for Reliance. The acquisition will play a key role in Reliance's new-energy vision to become a global-scale photovoltaic (PV) manufacturing player, with access to next-generation heterojunction technology (HJT)
REC Solar Holdings was founded in 1996 and has a presence in many countries including India. Norway's headquartered company has a strong focus on research and development with many patents under its belt. Reliance plans to use REC Solar's industry-leading technology in its silicon-to-PV-panel Giga factory in Jamnagar, starting with 4GW per annum capacity and growing to 10GW per annum capacity over time.
With its advanced interconnection technology and patented design, REC Solar's panel is apt for commercial and industrial rooftop segment and ground-mount installations with space restrictions. This aligns well with Reliance's green energy business objectives, of having most of the installations under its 100MW-solar-power production target placed as decentralized, rooftop ones and to power rural India.
Sterling & Wilson Solar
Sterling & Wilson Solar has a presence across 24 countries and provides a range of solar energy turnkey solutions, including design, procurement, construction, project management, and operations and management.
NexWafe
NexWafe is a manufacturer of monocrystalline silicon wafers – the building blocks for solar cells. The German company makes its wafers directly from inexpensive raw materials. Reliance, through this partnership, will secure access to NexWafe's proprietary technology and extend its reach over the solar technology domain.
Ambri
In August 2021, Reliance New Energy Solar had made another $144 million investment, along with Paulson & Co, Bill Gates, and other investors in Ambri.
Ambri has patented technology for long-duration energy storage systems, which can be linked to the power grid with minimal maintenance and with the capability to survive a range of climatic conditions.
Reliance on green energy plans
Reliance, which is India's largest private sector company, generates more than half of its revenue from refining and chemicals. Reliance green energy business is an effort by the conglomerate to transition to clean energy and remain relevant in the power and energy business.
Additionally, Reliance also wants to become a net carbon zero company by 2035, which means it needs significant renewable energy power to feed its own needs. Unlike its global competitors, Shell and BP, Reliance is taking a manufacturing-first approach to achieve its goals.
As part of its plan, Reliance will construct four Giga factories on 5,000 acres of land in Jamnagar. The company will use its existing facilities to make integrated solar PV modules, electrolyzers, fuel cells, and batteries to store energy from the grid.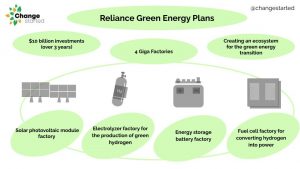 The Jamnagar complex is expected to have an integrated solar photovoltaic module factory for the production of solar energy, an advanced energy storage battery factory for the storage of intermittent energy, an electrolyzer factory to produce green hydrogen, and a fuel-cell factory to convert hydrogen into motive and stationary power. It will also house infrastructure to manufacture ancillary material and equipment for the gigafactories.
Reliance green energy business especially from a technology perspective has excited the industry and the market players. Currently, the majority of the solar modules are made using Monocrystalline PERC (mono PERC) technology, but companies have started to work on the replacements. The two upcoming technologies are heterojunction (HJT) and Tunnel oxide passivated contact (TOPCon). Reliance by acquiring REC Solar will get access to HJT, which has comparatively better efficiency than mono PERC — the percentage of sunlight converted to usable electricity.
One of the key reasons for these strategic decisions is the team of experts that Reliance has brought together for its clean energy ambitions. It is guided by a council of nine experts, headed by national research professor and independent director of RIL, R Mashelkar, Solar energy expert Martin Andrew Green, and organic chemistry researcher David Milstein who lead the research on splitting water to create hydrogen at the Weizmann Institute of Science.
The moves are a strong indication that Reliance is not only looking at the Indian market, but the company wants to establish itself as a major global player in the clean energy business.
Conclusion
These acquisitions are also significant for India's ambition of reaching 450 GW of renewable energy by 2030. Currently, the solar energy market is dominated by China, hence investments made by Indian companies have the potential to break Chinese hegemony in the Indian market.
Other Indian companies in the clean energy space have also increased their stakes, in September, the Adani Group announced to invest $20 billion in renewable-energy production while government-owned NTPC, has set a target of 60GW of wind and solar power by 2032.