In June 2021, Indian multinational conglomerate Reliance Industries made a big announcement at its Annual General Meeting (AGM) that it will invest Rs 75,000 crores (~$10 bn) in the new energy business over the next 3 years.
The company's chairman Mukesh Ambani had announced to set up of Dhirubhai Ambani Green Energy Giga Complex in Jamnagar to enable at least 100GW of solar energy by 2030. The Giga complex was to have four factories – photovoltaic panels, energy storage, Green Hydrogen, and a fuel cell system.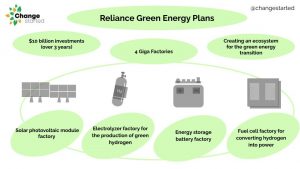 In the 2022 AGM which was held on 29th August, the public, shareholders, and other stakeholders were keenly interested to know the progress Reliance has made in its green energy business.
The interest further increased after COP 26, held last year when India committed to becoming a net zero economy by 2070, and green energy will have a significant role to play. India told the world that it will strive to achieve 500 GW of nonfossil fuel energy generation by 2030.
Given the home country's ambitious target and global renewable energy demands, Reliance's foray into the green energy business is not surprising.
At the 2022 AGM, Mukesh Ambani, stated "Reliance aspires to make India a world leader in new energy manufacturing and a credible alternative to China."
The chairman not only reaffirmed its commitment to green energy but also added one more Giga Factory to the mix – for Power Electronics. He mentioned the need for reliable power electronics which is needed across the entire value chain of Green Energy, for which Reliance is building capabilities in the design and manufacturing of power electronics and software systems, integrating with its existing capabilities in Telecommunications, Cloud Computing, and IoT platforms.
In one year since starting its Green Energy business, Reliance has invested heavily in its talent pool, which consists of 2,500 scientists, engineers, and other professionals.
In the few months post its 2021 AGM, Reliance made a series of investments and partnerships with leading companies globally in the areas of Solar, Battery, and Electrolysers. We wrote about it here.
Let us look at the major highlights of its 2022 Annual General Meeting from the Reliance Green Energy Business perspective.
Solar
In October 2021, Reliance acquired a 100% stake in a leading solar manufacturing company REC Solar. Singapore-headquartered REC comes with expertise in Heterojunction Technology (HJT). The company has a considerable presence in rooftop solar markets in the US, Europe, and Australia.
With REC, Reliance is endeavoring to increase the effeciency of the HJT module from the current 23% to 26% by 2026, and further improve it to 28% through innovations like perovskite-tandem cell technology. The company is also aiming to extend the life of PV modules from 25 to 50 years.
The production at its Solar Giga factor will commence by 2024 with a target to achieve 10GW solar PV cell and module and a target to scale up to 20GW annual capacity in a phased manner by 2026.
This will be the first of its kind of 'quartz-to-module' facility globally – from quartz to metallurgical silicon, to polysilicon, to ingots /wafers – and integrate them with cells and modules. The company will also invest in Glass and POE film manufacturing – both having natural synergies with our Chemical and Materials business. This will provide supply security, unparalleled cost advantage, and the ability to capture chain margins with maximum recycling.
Battery
In Reliance Green Energy's business endeavors, batteries will play an integral part in providing long-duration energy storage. They are critical to promoting Green Mobility and stationary applications for residential and commercial use.
Reliance plans to establish an end-to-end battery ecosystem – from battery materials to cell manufacturing, leading up to packs and Battery Management systems (BMS), to deliver safe and reliable batteries with high energy density and fast charging capabilities.
Like Solar, for Battery as well, Reliance has initiated partnerships with industry-leading players – Lithium Werks, Faradion, and Ambri.
Lithium Werks provides an integrated portfolio of high-performance Lithium Iron Phosphate (LFP) solutions.
Faradion provides its expertise in sodium-ion battery chemistry
Ambri is a world leader in long-duration energy storage solutions based on Liquid Metal technology, built for grid
applications.
Further, Reliance's own experience in Chemistry and Materials will give them a competitive advantage in setting up a world-scale battery manufacturing facility. The company aims to start production of battery packs by 2023 and scale up to a fully integrated 5 GWh annual cell to pack manufacturing facility by 2024, and further scale up to 50 GWh annual capacity by 2027.
Electrolyzers
Reliance is one of the largest producers of Grey Hydrogen globally. However, given its negative environmental consequence, companies are now striving to transition toward Green hydrogen, which is environment friendly.
Green hydrogen is hydrogen that is produced by splitting water through an electrolysis process.
Reliance aims to start the transition from Grey Hydrogen to Green Hydrogen by 2025, which is cheaper than the currently available prices. The Mumbai-headquartered company is looking at partnerships with other leading electrolyzer technology players globally.
In October 2021, Reliance signed a pact with Denmark-based Stiesdal to accelerate cost reduction and commercialization of their Pressurised Alkaline Electrolyzer technology.
Bio-energy
Reliance is one of the most significant users of agro-waste as a fuel to meet its own captive energy needs. Now it wants to leverage this for commercial and industrial purposes.
On the occasion of India's Independence day, the company inaugurated Phase I of its Bio-Energy Technology (BET) Centre at
Jamnagar.
Wrapping Up
In the end, Mukesh Ambani, who has been at the helm of the Reliance Industry since his father's demise, announced his own transition plan.
His eldest son, Akash Ambani will lead the Telecom division of Reliance – Jio, his daughter Isha Ambani will manage its Retail and the youngest son Anant Ambani will lead Reliance New Energy Business.
You can read about Reliance Green Energy Acquisitions in 2021, here.