As per Collin's dictionary, the definition of 'sail through' is
"If someone or something sails through a difficult situation or experience, they deal with it easily and successfully."
While most of us sit in our living rooms just worrying about the impact of ocean plastic pollution and the devastation it causes on our day to day lives, there are those who have the courage and tenacity to tackle the problem head-on and literally sail through it. Emily Penn is one such person who is doing it on the world's deepest oceans and inspiring thousands of others in her journey.
An architect turned sailor and environmentalist, Emily is pioneering a 300 member all-women team fight against plastic pollution specifically in high seas, and oceans. The expedition started in October 2019, with the objective to "sail through some of the densest ocean plastic accumulation zones on the planet to study plastic pollution". The team is a mix of various cultures and nationalities from diverse age groups. The idea of the voyage is to look for plastic in oceans, discuss solutions and enable the participants to take back the stories to their respective countries and start their own individual campaigns.
After spending years in several beach clean-up projects and research projects on ocean pollution, Emily Penn along with Lucy Gilliam co-founded a not-for-profit organization – eXXpedition – that runs all-female sailing research expeditions to investigate the causes and find solutions for ocean pollution. It was her own personal encounter of a huge plastic dump in the middle of an ocean while on a boat ride from England to Australia that led her to come up with this community interest group.
eXXpedition made their first voyage to Atlantic in 2014, following which many more all-female trips have been undertaken, covering the seas and oceans of the Caribbean, Amazon, Britain, North Pacific.
The current round-world expedition is their biggest project, which will see 300 multidisciplinary women sail across 30 challenging stages over a two-year period.
The below trip map, extracted from their website, shows the route the team is going to take for this journey.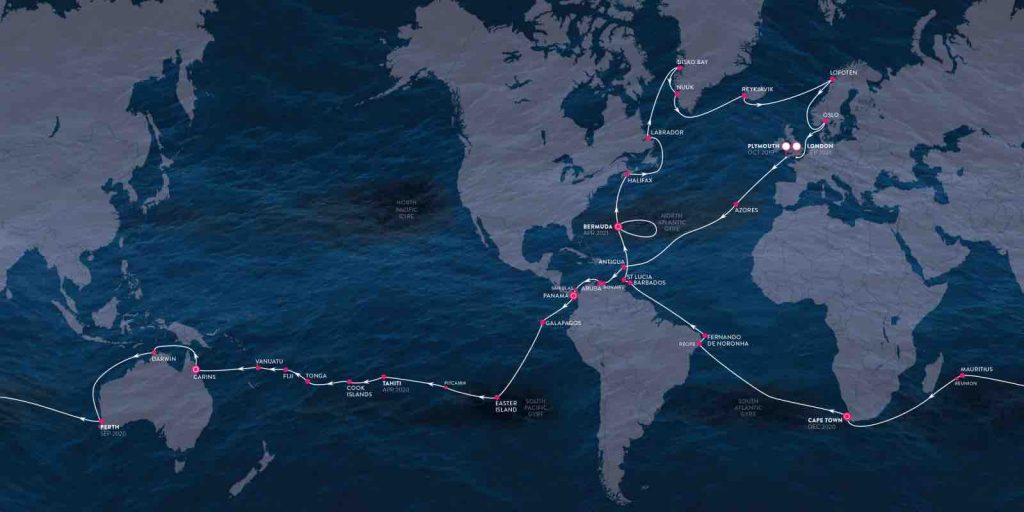 As part of the voyage, the participants share their personal experiences, engage in scientific research, get involved in solution workshops and explore collaboration opportunities with other members of the team. These expeditions also give the ladies, who mostly don't have any prior sailing experience, an opportunity to understand the vagaries of oceans, encounters with sea animals, maneuvering through the tides & the changing weather situations, and finally deal with the emotions which go along with it.
It is not only the ocean pollution that this organization is tackling but also a couple of other reasons as under –
To promote science and technology among the group – as of now only 13% of the STEM (Science, Technology, Engineering, Maths) workforce is women
To increase awareness of harmful chemicals that enter the body that has a wider ramification in a female body compared to a male. "For example, adult women have higher levels of urinary metabolites than men for phthalates (present in personal-care products, cleaning products, fragrances, and cosmetics), which may be linked to birth defects"
Here is wishing the company many successful Exxpeditions and may the wind be with them.