Ever since plastic packaging became popular, the contamination of the environment by plastic waste has been a sad reality faced by modern societies. Sadly, plastic pollution is growing day by day and the issue is not just limited to streets and landfills, it has impacted our oceans, seas, rivers, and even the food chain.
Like many other countries, India faces a colossal plastic waste problem as every year millions of tons of plastic are dumped in the country. While efforts are being taken by the government, NGOs, civil society groups, to do the cleaning, create awareness but we need to do more….a lot more…
On one hand, there are major businesses that are contributing to the plastic pollution epidemic by their packaging. On the other side, a lot of companies are working to find a solution that will help other businesses as well as the environment.
We looked at some of the Indian startups that are providing plastic waste solutions.
Each of the solutions is unique and interesting.
ZeroCircle

Seaweed is an amazing gift from mother nature, that grows in our oceans. It is used for a variety of purposes like food, cosmetics, pharmaceuticals, biofuels, etc. The marine crop also reduces the impact of carbon emissions and improves the marine environment and has emerged as one of the mediums to fight plastic pollution.
Mumbai-based Zerocircle is a sustainable packaging company that produces plastic using seaweed that is completely biodegradable, cost-effective, and durable. Currently, Zerocircle seaweed plastic will be able to replace LDPE (low-density polyethylene) and PP (Polypropylene) types of plastic.
Zerocircle plastic alternatives are food-safe and industry-ready packaging. The company has signed up with large CPG companies to manufacture industrial packaging materials using seaweed.
The reason for picking seaweed to provide the plastic waste solutions is shared by the founder of Zerocircle, Neha Jain in our conversation with her. "While I was doing this research I also realized that there has to be a material that is not only renewable but it has to be regenerative. When I discovered seaweed, I realized that it is one of the ancient organisms that lived on this planet. In fact, the microalgae and macroalgae found in the oceans are the grandfathers of the trees we have on the land. Moreover, the survival of the oceans is so critical for our life."
Listen to the full story about Neha's journey, facts about seaweed and the Zerocircle plastic alternative on the Change Started YouTube channel.
Head Quarters: Mumbai
Founder: Neha Jain
Eco Deco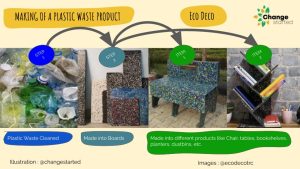 The growing urbanization and increasing consumerism in India are causing larger quantities of plastic waste that local municipal bodies are unable to manage effectively. That's where India is lucky to have a large-scale unorganized waste management system (local kabadiwalas)
Delhi-based startup Eco Deco takes waste plastic from the waste pickers, carries out the necessary processing, and creates panels, similar to plywood boards. Even the consumers can even give plastic waste to Eco Deco for them to make a customized product.
Eco Deco makes products like bookshelves, planters, home furniture, public utility items, etc. The company was founded by Sonal Shukla and Vaibhav Verma in 2020, after an interesting incident that happened during one of their travels.
Head Quarters: Delhi
Founders: Sonal Shukla and Vaibhav Verma
Dharaksha Ecosolution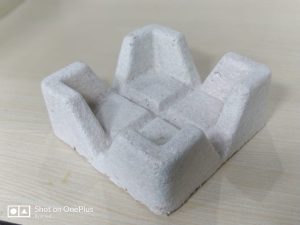 Crop stubble burning in north India is a unique problem and is considered a major reason for severe air pollution in Delhi and its adjoining regions. While many solutions have been tried to stop the burning, farmers continue to burn their agricultural waste.
In addition, one of the big culprits of plastic pollution that is widely used for packaging is – Thermocol (also called expanded polystyrene).
One innovative plastic waste solution that solves the dual problem of plastic waste and agriculture waste is from Dharaksha Ecosolutions.
Delhi-based Dharaksha is a sustainable packaging company that not only provides plastic waste solutions but also solves agricultural stubble burning problems. The company makes biodegradable materials from agricultural waste, that can effectively replace Thermocol.
In our conversation with the co-founder of Dharkasha, Arpit Dhupar, claims that the packaging made from crop stubble is durable, strong, cost-effective, and most importantly biodegradable.
Head Quarters: Delhi
Founders: Arpit Dhupar and Anand Bodh
Angirus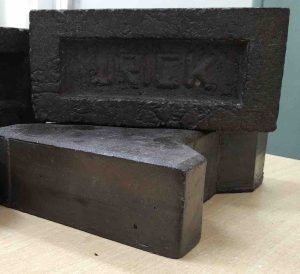 We mostly blame transportation, factories, and agriculture for causing carbon emissions, but one sector that misses the limelight is the Construction industry. Just take the clay bricks, a major constituent for the construction section. Clay bricks use precious natural resources (soil, coal, water) and are manufactured in highly polluting brick kilns.
Udaipur-based startup Angirus makes environment-friendly bricks utilizing construction & demolition waste and also utilizes plastic waste – solving two problems with one solution. The patent-pending bricks constitute 20 percent to 30 percent plastic waste and the rest is construction and other inert waste. The product is named Wricks and will provide an effective and sustainable alternative to clay bricks.
The co-founder of the company Kunjpreet Arora, mentions that Angirus bricks are waterproof, chemical-free, and, cost-effective.
Head Quarters: Udaipur
Founders: Kunjpreet Arora and Lokesh Puri
Phool
Founded in 2017, Phool is a recycling company that primarily works on India's temple waste problem. The Kanpur-based provides innovative solutions to the flower waste generated in the Temples. As per the company, it collects 8.4 tons of floral waste from temples in Uttar Pradesh on a daily basis.
The product range includes charcoal-free incense, wellness products, and biodegradable packaging materials that include a thermocol alternative. Branded as Florafoam, this alternative from Phool is biodegradable, durable, and fire-resistant.
Head Quarters: Kanpur
Founder: Ankit Agarwal
Crockery Bank for Everyone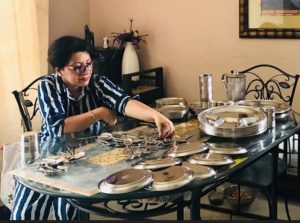 When organizing a social gathering which involves food and drinks, the majority of us buy single-use disposable cutlery – plates, cups, glasses, spoons that are made with plastic and styrofoam.
Sameera Satija started 'Crockery Bank for Everyone' in Delhi NCR, to encourage and motivate people to ditch the single-use plastic cutlery in favor of stainless steel crockery. Anyone can pick up the steel utensils from this Crockery Bank, and after the event, simply wash them and return it back for them to be utilized by someone else.
Crockery Bank for Everyone is not a company, but a unique initiative to make our societies plastic-free and create a system where we substitute single-use crockery with environmentally friendly alternatives. Sameera wants to make this an open concept that can be replicated by anyone in their own community. Many people have already started Crockery Bank for Everyone across various cities in India.
Wrapping Up
In recent times, India has seen an increase in awareness about the effects of plastic pollution and how it can be prevented. Likely that has resulted in companies and young entrepreneurs coming forward to solve the plastic waste problem in India.