If sustainable fashion in India was looking for a moment to shine, it came on 8th February, when none other than Indian Prime Minister, Narendra Modi, walked into the Indian Parliament wearing a dress made with recycled plastic.
The recycled plastic dress was launched by Prime Minister just two days before at an energy conference, India Energy Week. A reaffirmation by the country's top leader can go a long way in promoting sustainable fashion in India.
Thank you, Hon'ble PM Sh @narendramodi ji, for showing your support for RRR initiative #Unbottled by wearing the jacket presented to you by @IndianOilcl at the #IndiaEnergyWeek. Your encouragement will motivate us to exceed expectations in our service to India. pic.twitter.com/FuXhQo2DSs

— Ministry of Petroleum and Natural Gas (@PetroleumMin) February 8, 2023
There is a growing consensus towards a circular economy among the advocates of environmentally friendly fashion. At UN Climate Conference (COP27) an event on 'Circular Systems for a Net Positive Fashion Industry', industry leaders discussed ways that can make clothing with 'less waste, less pollution, more reuse, and more recycling'.
The Indian fashion industry has also caught the bandwagon of sustainable and environment-friendly fashion. A slew of companies has emerged on the scene that is creating garments using climate-conscious materials and processes. We wrote earlier on the Indian sustainable fashion startups, including a few that Change Started has spoken to.
Even the major players in the Indian fashion scene have introduced products in sustainable fashion, including the likes of Raymond, Indian Terrain, No Nasties, Madame, etc. Such is the movement, that even oil companies like Indian Oil and Reliance Industries are also trying their hands.
The blue jacket that was worn by Prime Minister is part of an oil marketing company Indian Oil Corporation that is taking this initiative further through 'Unbottled' – a brand for sustainable garments made from recycled polyester. Under this brand, Indian Oil wants to create uniforms for its own 0.3 million workforce and customer attendants of other oil marketing companies, non-combat uniforms for the Army, and even retail customers. As per the company, "this initiative would support recycling about 405 tonnes of PET bottles, equivalent to offsetting over 20 million bottles yearly."
In 2019, another Oil major Reliance Industries collaborated with India's leading garment manufacturer Raymond Group to launch an eco-friendly range of fabrics called Ecovera. The fabric is produced using consumer waste PET bottles, using bio-fuels, and energy-efficient processes.
Madame, another fashion brand that makes apparel, handbags, footwear, and accessories for women, has developed designs that minimize textile waste in the manufacturing process. The brand intends to reduce its carbon footprint by at least 80% and become carbon-negative by 2030.
Mumbai-based fashion brand Bombay Trooper has introduced garments that are made with 100% recycled fabric and natural coconut shell buttons.
Wrapping Up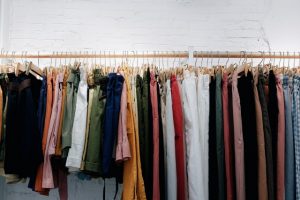 The rise of sustainable fashion in India represents the changing consumer mindset and increasing adoption of eco-conscious fashion brands. The fact that the fashion industry is responsible for about 20% of global wastewater and 10% of carbon emissions is getting concerning for buyers.
Consumers are looking for fashion alternatives that are less environmentally damaging, which is therefore fuelling the demand for materials like organic cotton, recycled fabric, hemp, linen, bamboo, and cork.
India is one of the most populous countries with a young and aspiring consumer base, so it is not surprising to see companies foraying into sustainable fashion. With endorsement from the Prime Minister of India, the pace of expansion should surely rise.
You might also like to read about Sustainable fashion brands in India. Click here.
You might also like to read about Sustainable Fabrics. Click here.