Indian electric vehicle industry is undergoing a major transformation, not a day passes when news related to the EV industry is not made. From Indian states announcing their respective EV policies to banks rolling out lucrative offers, from tie-ups for charging infrastructure to new electric vehicle launches, from Tesla Indian entry to Ola raising fresh equity, the market is abuzz with activities.
As per the Society of Manufacturers of Electric Vehicles (SMEV) report, sales of electric two-wheelers in India increased 132% in 2021. If we look at the sales number of the top 10 electric two-wheelers companies for the last year, Hero Electric, Okinawa, and Ather occupy more than 60% of the market.
Most of the current electric bikes in India are electric scooters that cost between $1,000 to $1,200. While if we look at the traditional fuel-powered Indian two-wheeler market, it is dominated by 100cc to 150cc motorcycles.
Bajaj Auto, Hero MotoCorp, Honda, and TVS capture almost 90% of the Indian two-wheeler market, mainly through their motorcycle sales. Primarily because the motorcycles are extremely popular in tier-2 & tier-3 Indian cities and rural areas, whereas gearless scooters enjoy a strong following in urban areas.
On the other hand, motorcycles that are powered by higher capacity engines, come at a price point greater than $1,500 and are largely preferred by youngsters in big cities.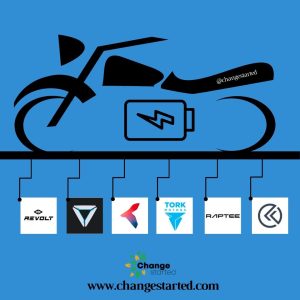 Therefore it will be interesting to see how the Indian electric motorcycles market shape up in the future.
In order for electric motorbikes to become competitive with their ICE counterparts, apart from their emission-free functionality they have to also match or exceed in terms of style, speed, and performance. The market is already buzzing with activity with a slew of electric bike startups.
Let us look at some of the companies that have launched or are in the process of launching electric motorcycles in India. These electric motorbikes come with a sleek design and are loaded with home gown components and patent technologies.
Tork Motors
Founders: Kapil Shelke
The Pune-based company is one of the oldest electric motorcycles company in India. Tork Motors launched its first set of motorcycles, KRATOS and KRATOS-R, in January 2022. KRATOS has a battery range of 120 km and a maximum speed of 100 kmph. KRATOS-R has a 9 kWh battery and has a maximum speed of 105 kmph. The electric bike has features like geofencing, find my vehicle function, crash alert, track mode analytics among others.
The startup, founded in 2010 to mainly engage in motorcycle racing, received its first funding in 2016. Tork Motors has set up a plant in Chakan (near Pune) to manufacture its electric motorcycles and in addition, has also established a B2B vertical where it supplies EV powertrains to 3-wheeler OEMs.
Kalyani Powertrain, a subsidiary of Bharat Forge is a strategic investor in Tork Motors since 2018.
Ultraviolette
Founders: Narayan Subramaniam and Niraj Rajmohan.
Founded in 2014, Ultraviolette is a Bengaluru-based startup that established its first manufacturing and assembly facility near Electronic City (near Bengaluru).
In November 2019, Ultraviolette Automotive showcased the electric motorcycle F77 model. The electric bike comes with portable modular batteries and is positioned in the high-performance motorcycle category with a top speed of 140 kmph, and a range of 150 km on a single charge.
In December 2021, Ultraviolette Automotive raised about $15 mn from India's leading automotive company TVS and software-as-a-service giant Zoho Corp.
Revolt Motors
Founder: Rahul Sharma
The company currently offers two models – RV400 that comes with a 3KW motor, powered by a 3.24KWh lithium-ion battery that can churn out a top speed of 85km/h, and a lower-end model RV300.
As of 2021, the company had one manufacturing facility in Manesar, Haryana, which has the capacity to roll out one lakh units per. annum.
The bike can be operated through the mobile app, which offers connectivity features such as geo-fencing, bike locator, bike diagnostics, and also the option to know historical data on your rides.
Kabira Mobility
Founder: Jaibir Siwach
The Goa-based electric vehicle start-up was founded by Jaibir Siwach, a retired aeronautical engineer who had also worked with the Indian Navy.
Founded in 2019 the company launched two electric bikes KM3000 and KM4000 in early 2021. The bikes are supplied with geo-fencing, combi-brakes, fast-charging on board.
The KM3000 model comes with a top speed of 100 kmph and is offering a maximum battery range of 120 km. The second model KM4000 has a top speed of 120 kmph and can travel a distance of 150 km on a single charge.
Raptee Energy
Founders: Dinesh Arjun and Keerthivasan Ravi
Chennai-based Raptee Energy was the first start-up to be incubated at the Atal Incubation Centre at Anna University.
Sometime back we spoke to the co-founder & CEO of Raptee Energy, Dinesh Arjun, where he shares his automotive experience, journey, use of patented technologies, and the plans behind developing electric motorcycles in India that is comparable with any best-in-class petrol-powered motorcycle.
Raptee Energy is working on two stylish motorcycles, the first model comes with a top speed of 150 kmph and has a maximum battery range of 200 km. The electric bike will be equipped with features like adaptive driving modes, Bluetooth connectivity, navigation, geofencing, biometric access among others.
Electric motorcycle for Indian sensibilities – Dinesh Arjun – Raptee Energy
Oben
Founder: Dinkar Agrawal and Madhumita Agarwal
Founded in 2020 by husband and wife duo Dinkar and Madhumita in Bengaluru.
Oben electric bike will feature a range of 200 km in a full charge along with a top speed of 100 kmph.
Wrapping Up
The electric two-wheeler market in India has been on a massive rise and the year 2021 witnessed its strongest year in sales. The total sales of electric two-wheelers in the year 2021 increased by 132% over the previous year – 2,33,971 units in 2021 vs 1,00,736 units sold in 2020.
Given the growth trajectory, the potential for electric vehicles in India is enormous, firstly because its emission-free and secondly favorable government policies. The Indian government has hiked its FAME subsidies and in addition, more than 20 Indian states have announced their own Electric Vehicle policies, to promote the sale of EV vehciles.
It will be fascinating to witness, who wins the battle between electric scooters and electric bikes in India.
Can India become the largest Electric Two Wheeler Market