A few days back when I was selling old newspapers to a local scrap collector, he was enthusiastically asking for any electronic waste. When I enquired more about it, he mentioned that these days, electronic waste fetches him a good return.
Well, he is right. Electronic waste or e-waste has loads of metals, like copper, aluminum, steel, and sometimes even gold and silver, which fetches decent returns compared to newspaper and plastic recycling.
Electric battery and e-waste recycling in India is highly unorganized, mostly dominated by local vendors, scrap collectors, and scrap dealers. However, things are slowly changing, in the last few years, many organized e-waste recyclers have started in India. The main reason for this emergence is the potential of electric vehicle battery recycling. Till now smartphone recycling was the main job of the e-waste recyclers in India, but given the blossoming of the electric vehicles market, things are going to change.
With the growth of 2W, 3W, 4W, EV storage, and other EV battery-related products, there will be a proliferation of bigger batteries as well. The lithium-ion batteries typically used in Indian electric vehicles contain metals like cobalt and nickel that carry higher margins compared to other electronic waste. Even the other metals can be re-used to make new batteries or in other products.
EV Battery and e-waste recycling in India, will not only reduce the environmental impact of mining but would also reduce India's dependence on countries like China. As per consultancy firm JMK Research, recycling in India is- a $1 billion opportunity.
EV Battery and E-Waste Recycling Companies in India
Let us look at a few electric vehicle batteries and e-waste recyclers in India.
Attero Recycling
Attero specializes in end-to-end e-waste and metal extraction and is one of the oldest e-waste recyclers in India. The company has a pan-India network connecting stakeholders across the value chain including manufacturers, consumers, waste pickers, and aggregators. Attero Recycling's list of clients includes India's major automobile manufacturers like MG Motors, Tata, and Hyundai Motors.
Founded in: 2008
HQ: Noida, Delhi NCR
Exigo Recycling
Exigo Recycling is a recycling company that manages e-waste and electronic assets. Started by a former Attero employee, Exigo collects and recycles all types of computers, electronics, media, and communications equipment.
Founded in: 2012
HQ: Noida, Delhi NCR
Lohum
Lohum is an integrated lithium-ion battery manufacturer and recycling solution company. The Noida-based company recovers battery materials such as cobalt, lithium, nickel, and graphite and reuses them to make new batteries. Lohum has tied up with Electric two-wheeler startup Okinawa Autotech
Founded in: 2018
HQ: Noida, Delhi NCR
Binbag Recycling
Binbag leverages technology to collect and recycle e-waste in the formal channels. They operate two plants in Andhra Pradesh and Assam to recycle ACs, computers, and laptops, among other electronic waste items.
Founded in: 2014
HQ: Bengaluru, Karnataka
Ace Green Recycling
Ace Green Recycling is a battery recycling startup, which has developed an electric-powered, emission-free lead-acid battery recycling technology. The startup is also working on recycling of Lithium-Ion batteries and other kinds of e-waste.
Founded in: 2019
HQ: Singapore
Wrapping Up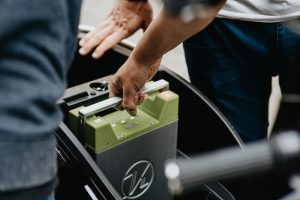 It is not just these startups that have entered the EV battery and e-waste recycling space, prominent big boys of the Indian corporate world have also started. Tata Chemicals which has a tie-up with Tata Motors has launched its lithium-ion battery recycling operations in Mumbai, even Mahindra is also exploring recycling options.
Recycling electronic waste does not mean that company can recycle EV batteries, the chemicals in a battery require different expertise. Therefore if e-waste recyclers in India have to do well in the recycling of EV batteries, they have to ramp up their skills, investments, operations, logistics, and infrastructure.
In addition to handling the chemicals, EV battery recycling entails environmental and health risks, the chemicals can harm the people who are working in the factory and can also contaminate soil and groundwater.
While India has had laws governing e-waste since 2016, the country will introduce regulations around the effective disposal and recycling of lithium-ion batteries. This will help in creating an ecosystem of manufacturers, assemblers, and recyclers to ensure that the used batteries are collected and recycled.
Like the Vehicle Scrappage policy which will usher transformation in the handling of vehicle scrap, a policy on e-waste recycling in India could transform the circular economy space.