Cement, one of the most common raw materials used in the construction industry is also one of the highest contributors to carbon emissions.
Cement is made by crushing up a sedimentary rock called limestone and then heating it at high temperatures, which is produced by burning coal. The process produces carbon emissions from the burning of the coal, and gases are also released from the limestone during the heating. Even the mining of limestone using complex machines releases a lot of greenhouse gases.
If cement production were a country, it would be the world's third-largest emitter, as research has shown that to produce 1 kg of cement, 1 kg of GHG is released into the atmosphere.
In addition to cement, construction materials such as steel, bricks, and building fixtures (like windows and doors) are proven to cause detrimental effects on the environment and global climate.
However, there is hope, a slew of Indian startups working on sustainable construction has resolved to make a change in the construction industry.
These startups have created innovative products that recycle many forms of waste to make building materials that are efficient, affordable, and environment-friendly.
The companies also help to combat plastic pollution, water pollution, land pollution, and air pollution and work towards building a vibrant circular economy for the country.
Angirus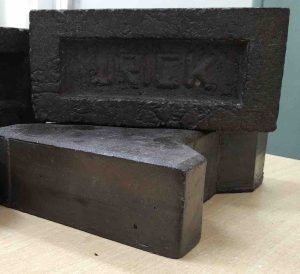 Udaipur-based startup Angirus makes environment-friendly bricks utilizing construction & demolition waste and also utilizes plastic waste – solving two problems with one solution.
The patent-pending bricks constitute 20 percent to 30 percent plastic waste and the rest is construction and other inert waste.
The product is named Wricks and provides an effective and sustainable alternative to clay bricks.
In our conversation with the co-founder of the company, Kunjpreet Arora, she mentions that Angirus bricks are waterproof, chemical-free, and, cost-effective.
Recycle X
Recycle X makes construction material using all types of plastic waste and also Industrial construction & demolition waste.
Established in 2020, the Gujarat-based company products range includes Paver blocks, Solid blocks, Tiles, and Hollow blocks, among others.
Head Quarters: Bharuch, Gujarat
Founders: Abhishek Chhazed and Vedant Gandhi
Website: https://recyclex.in/
GreenJams
GreenJams create carbon-negative building materials from crop residues such as paddy straw, cotton stalks, and bagasse. Along with the problem of crop stubble burning, the Vishakapatnam-based company building material also helps in sustainable construction.
As per the company claims, their product Agrocrete helps reduce the cost of construction by up to 50% and improves the building energy efficiency by up to 25%.
Hexpressions
Rajasthan-based sustainable construction company Heexpressions is creating recyclable homes using composite paper honeycomb panels. The innovative material has an inner core (paper honeycomb made with recycled paper) and outer face material (any local materials like cement board, wood, stone, etc.).
The unique honeycomb panels have the capacity to replace traditional construction materials, lower the carbon footprint of construction, reduce the construction time, increase affordability, and most importantly are eco-friendly.
Strawcture
Delhi-based Strawcture makes biobased composite panels made from agri-reside of crops like wheat, rice, sugarcane, etc. The eco-friendly panels are created of more than 90% straw and a proprietary binding adhesive and then compressed at a high temperature & pressure.
The panels can be used in many applications like making doors, drywall, furniture, mezzanine flooring, and floor-ceiling among others
India to focus heavily on Infrastructure in the coming future
As per the Indian Brand Equity Foundation (IBEF), India is expected to become the world's third-largest construction market by 2022. The country is expected to spend US$ 1.4 trillion on infrastructure projects, from 2019 to 2023.
India which is home to more than 1.3 billion people needs massive investments in the housing sector. In the Budget declared by the Indian government for 2021, major construction initiatives such as Housing for All and Smart Cities Mission were announced. As per the plan, 8 million affordable houses will be completed at Rs 44,000 crore (US$ 5.8 bn) under PM Awas Yojna in 2022–23.
Wrapping Up
Considering the large-scale infrastructure investments and residential requirements, it is highly relevant for Indian infra companies and real-estate builders to leverage the Indian startups working on sustainable construction.
As a large part of the real estate development will happen for residential purposes, it is also important to look at other ancillary parts of making a house, like furniture items, fixtures, and paints among others.
Studies have indicated, that most of the paint brands in India are normally packed with lead, mercury, chromium, arsenic, cadmium, etc which makes them extremely dangerous from a health perspective. In January 2021, Khadi and Village Industries Commission (KVIC) launched India's first eco-friendly paint that is made with cow dung. The paint will be free from heavy metals & toxic chemicals – making it environment-friendly and non-toxic.
Flhexible is making alternatives to wooden furniture. The Jaipur-based startup makes modular furniture & accessories manufactured using recycled paper.
Dharaksha Ecosolution, another Indian startup that works on creating a compostable alternative for Thermocol using Agri-waste, has indicated to venture into the eco-friendly furniture segment in near future. You can read more about the company here.
While sustainable construction in India is still at a nascent stage, the advent of these Indian startups indeed indicates that there is an awareness and desire to make a change. However, it needs more support and the creation of a wider ecosystem, which can enable these Indian sustainable construction companies to flourish for a healthy future.
Want to know more about green buildings? Read here