Many posts and articles have been written about the Indian Cricket team legend, Sachin Tendulkar – his cricketing prowess & accomplishments are unparalleled.
This article is not about Sachin Tendulkar, a cricketer we all know, it is about God playing a different role, which apparently is very close to his heart ❤️
On the occasion of The World Environment Day, I am dedicating this post to the man, who has not only made history on the Green Cricket grounds but over the years has contributed immensely in creating and propagating Greenery on a beautiful planet we live in. 🌲🌴
Tendulkar, who hanged his boots from international cricket in 2013 with a pile of records in his name, post his retirement has become a strong environmental activist – batting for a sustainable planet.
He is actively participating in causes related to the environment, plantation drives, promoting greenery, advocating cleanliness, and urging people for a better planet.
Whether it is about using his influence or partnering with corporates, he is persistently engaged in sustainable movements.
His modestly will prevent him to accept his environmental activism, but his relentless pursuits, which no one can deny.
Here is a compilation of Sachin's work on Environment, collected from the Social media and news reports. He would have done a lot more, but this is only to let the fans & people know that – the man is a legend, whether it was on-field or off-field.
2020
On 5th June, when we celebrate World Environment Day, while other celebrities might post a thing or two about the Environment, this man truly goes deep. The theme of 2020, is 'celebrating biodiversity', which not many will know, but not Sachin – "A small step by each one of us can go a long way in making our Earth a better place to live in. Every action to preserve our biodiversity for our future generations counts. "
---
In April, just 3 days before his Birthday, amid the lockdown imposed due to Corona pandemic, Sachin posted a video of him watering the plants in his garden.
"Me with my plants 🌱… a special connection I treasure. All of us can do with more green around us,"
2018
In December 2018, DBS Bank partnered with its brand ambassador Sachin to start an initiative to install solar-powered flood-lights at the local grounds to enable the children to play the sports at night.
---
In July 2018, when the Telangana government initiated a huge plantation drive 'Haritha Haram', the state's prolific minister KT Rama Rao gave a 'green challenge' to a few sports celebrities including Sachin Tendulkar. The man gleefully accepted the challenge and planted saplings and advocated the cause.
---
In May 2018, Sachin when participating in an event to discuss the approach towards sports in academic institutions, organized by Savitribai Phule Pune University, he used the occasion to plant a sapling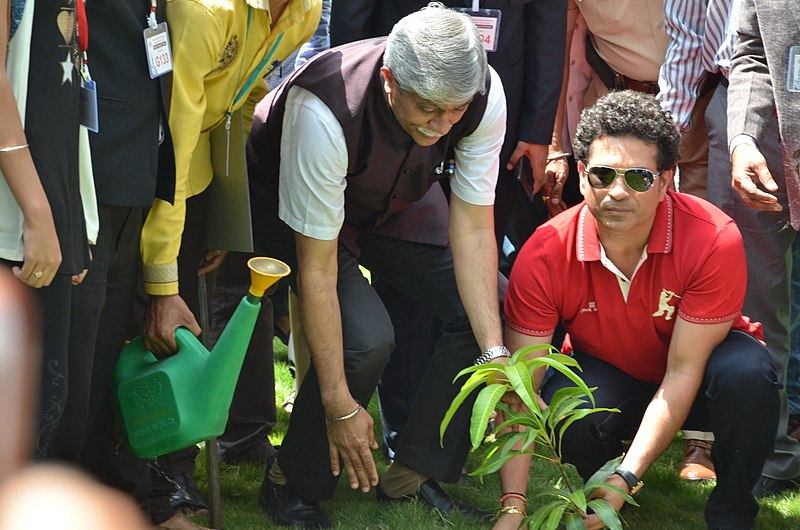 ---
In January, Sachin Tendulkar joined hands with Brihanmumbai Municipal Corporation to encourage citizens to improve the Mumbai city rank in Swachh Survekshan, a survey which rates/ranks cities on the cleanliness factor.
2017
On the eve of his birthday, the man joined hands with Schneider Electric to provide energy-efficient and eco-friendly electrification in the rural areas in the country. As per the reports, they installed solar home lighting systems to more than 25000 village homes.
---
In one of the events organized by the National Academy Of Customs, Indirect Taxes, and Narcotics (NACIN), in August month, Sachin planted a sapling.
---
In another initiative to clean Mumbai, Sachin Tendulkar came along with his son Arjun and others – they not only did cleaning of the place but also propagated the message for cleanliness and keeping the country clean.
2016
On the occasion of World Environment Day 2016, the man recommended doing simple things in our day to day lives, to bring transformational change to our planet. Like switching off the lights, stopping the tap of water when not being used can "make a huge difference to our planet". Listen to the master.
---
In another message posted in September 2016, he urged the citizens to contribute to a cause "where every Indian should be encouraged to use the toilet". As per him, this was one of the "biggest movements of his life".
2015
On the occasion of World Environment Day 2015, Sachin Tendulkar along with fellow cricketers Rohit Sharma and Ajinkya Rahane planted a sapling. This was post IPL, in which Mumbai Indians (MI) were crowned the champion, Sachin was the mentor of the MI team, and Rohit was the captain of the team.
2014
Sachin Tendulkar was one of the nine celebrities nominated by the Indian Prime Minister when he launched his ambitious "Swachh Bharath" campaign on October 2 on the 145th birth anniversary of Mahatma Gandhi – to spread awareness on cleanliness.
Just a few days later, the cricket icon who was also the Rajya Sabha member accepted the nomination and went with a few of his friends to clean up a section of a Mumbai road.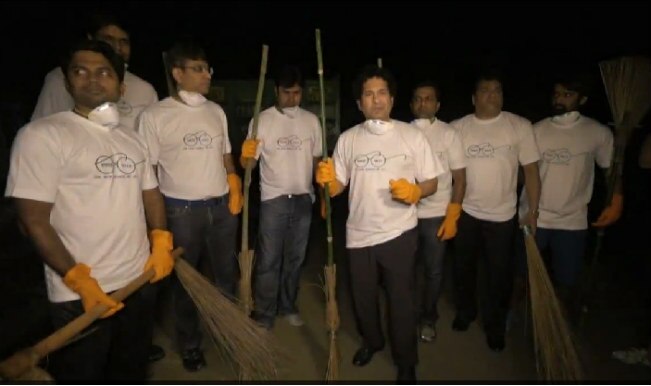 ---
Here is another occasion from his social media account, when he is planting a sapling and encouraging others.
Conclusion
The above compilation is only a sample of the work which former India captain, regarded as the greatest batsman in the history of the Cricket, has done in the last few years – on causes that were completely not related to Cricket.
This post is just made to inspire all the young and old fans of the legend. He had won many matches & tournaments single-handedly, but the fight against climate change, global warming, dwindling forests can be won only when all of us get together.
We have all chanted "Sachin! Sachin!", when he was playing Cricket. Let us join Sachin Tendulkar, the Environmental Activist, and win this battle together for a healthy planet.