Two Indian environmentalist 72-year-old tribal known as 'Encyclopedia of Forest' and 65-year-old farmer who has planted lakhs of plants in desert areas of Rajasthan, was conferred India's fourth-highest civilian award, Padma Shri for the year 2021.
It was an honor waiting for a long time.
Tulasi Gowda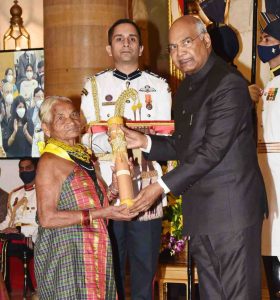 Tulasi Gowda, the 72-year-old tribal environmentalist, was conferred the Padma Shri award for her incredible contribution to nature conservation and protection.
Tulasi Gowda belongs to the Halakki indigenous tribe in Karnataka, and grew up under impoverished conditions, because of which she never received a formal education. However, her vast knowledge of diverse species of plants and herbs which she has imbibed with her work is appreciated as the 'Encyclopedia of the Forest'.
From a young age, Tulasi Gowda has been involved in tree planting and has nurtured thousands of trees. She later joined the forest department as a temporary volunteer, where her work and dedication were duly recognized, and got offered a permanent job.
As per the United Nations Permanent Forum on Indigenous Issues, indigenous peoples have "historical continuity or association with a given region or part of a given region prior to colonization or annexation; identify themselves as indigenous and be accepted as members by their community; have strong links to territories, surrounding natural resources and ecosystems; maintain at least in part, distinct social, economic and political systems; maintain, at least in part, distinct languages, cultures, beliefs and knowledge systems; are resolved to maintain and further develop their identity and distinct social, economic, cultural and political institutions as distinct peoples and communities; and often form non‐dominant sectors of society."
Tulsi Gowda is one Indian environmentalist who imbibes the indigenous knowledge of the region and illustrates it through environmental conservation initiatives.
Himmat Ram Bhambhu
Himmat Ram Bhambhu, 65-year-old farmer, conservationist, and environmentalist who has planted lakhs of plants in desert areas of India.
Himmat Ram has been involved in planting trees and creating awareness around forest conservation in the desert region of Rajasthan. The districts like Nagaur, Jodhpur, Jaisalmer, are extremely dry regions in India, temperatures can reach 50 degrees centigrade in the summer months, growing trees in this region are not easy.
The continuous commitment of Himmat Bhambhu from the last two decades has ensured greenery and vegetation in this arid belt of India. He has developed a unique integrated agroforestry plantation and biodiversity conservation center. The forest patch he has created at village Harima in Nagaur in an area of 6 ha has become a restoration center for various rare wild birds and animals.
These efforts are laudable considering, world's one-fifth of land area, which is more than 2 billion hectares is degraded. In addition, every year, more than 12 million hectares of land are lost to desertification, land degradation, and drought, impacting billions of people.
In August 2021, during a keynote address at the United Nations High-Level Dialogue on Desertification, Land degradation, and Drought, India Prime Minister Modi mentioned.
"As the strongest pillar on which our ancient societies have functioned since time immemorial, land has had a lasting impact on the economy, agriculture, environment, and quality of life as a whole. However, with the advent of organized agricultural farming, a population boom has gradually led to a situation where 1/5th of the total area of land of the world has now degraded. Needless to say, there has been a severe adverse impact on the quality of life, food security as well as measures toward ensuring poverty eradication. Affecting about 40 percent of the global population, countless livelihoods are today endangered because of land degradation"
Himmat Bhambhu and Tulasi Gowda's efforts exemplify the steps that need to be taken across the globe. The Padma Shri awards that were conferred to these two outstanding Indian environmentalists in grand a ceremony held on 8th November 2021 at the Vigyan Bhawan, New Delhi was timely and necessary.
Barefoot and dressed in traditional attire, Tulasi Gowda received India's fourth-highest civilian award from President Ram Nath Kovind in her own style.
Dr. Anil Prakash Joshi
In the same ceremony, Dr. Anil Prakash Joshi, another Indian environmentalist from the state of Uttarkhand, social worker, and botanist received India's third-highest civilian award Padma Bhushan. In 1979, Anil Joshi started the Himalayan Environmental Studies and Conservation Organization (HESCO) and has been at the forefront in promoting indigenous technologies.
We have covered him in a separate story, which encapsulates his life, journey, and achievements.
ChangeBlazers – Anil Joshi – Great things happen when Man and Mountain meet
Saalumaraa Thimakka
Saalumarada Thimmakka is one more Indian environmentalist who has almost single-handedly planted many trees along a stretch of highway near her village.
At the young age of 107, she finally received her recognition when the Indian President awarded her with Padma Shri Award at Rashtrapati Bhavan in the year 2019.
Here is the link to Saalumarada Thimmakka's story, her struggles, and most importantly her perseverance towards the environment and mother nature.
ChangeBlazers – When Passion Meets Purpose – Saalumarada Thimakka